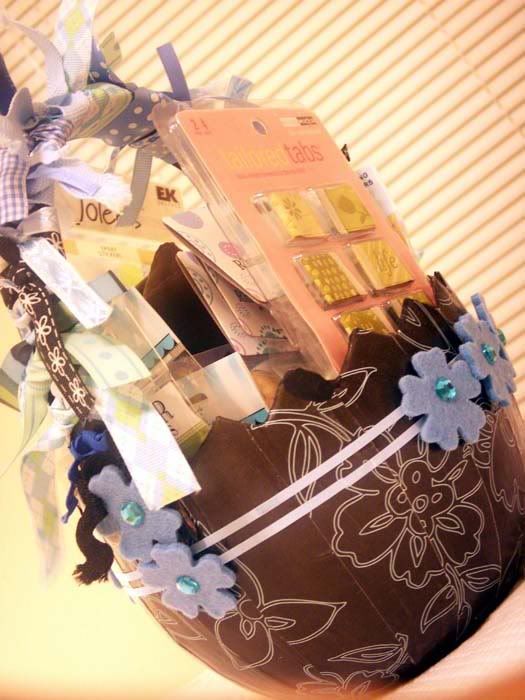 In one of my favorite scrap groups on MySpace, we're having an Easter/Spring themed swap. I chose to alter a paper mache Easter basket (it was supposed to look like an egg cracked in half) and filled it with lots of goodies. Since the basket is spherical, I had trouble attaching the paper. I had to cut the paper (by American Crafts by the way) into strip and individually modge podge them on, carefully attempting to match the design as much as possible.
I realize now that it's not very "spring" like, but I still love the color palette. You can't go wrong with blues and blacks. :)

I participated in my first ATC swap. The theme for this swap was to do a card that was about yourself. These represent three things:
1. I love pink.
2. I love swallows.
3. I love prima flowers.
I used a technique that I love to use on my scrapbook layouts. I made a sunburst using triangular cut pieces of cardstock. I chose a spot for the burst to begin and slowly layered them around. The birds are all hand colored using prisma color pencils and I used a blending pen to blend (imagine that!). I then outlined the birds again using a Sakura Gelly Roll Glaze pen. If you haven't tried those yet, they are amazing. The ink dries raised, so it has an embossed feel to it. Plus the ink is shiny which adds even more depth.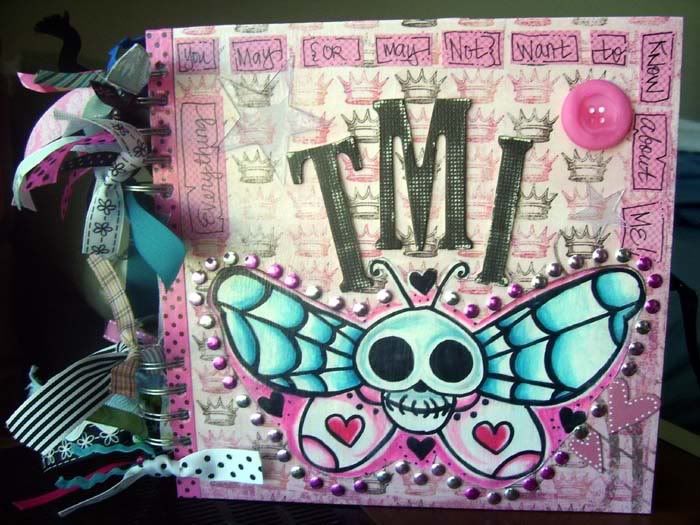 This is my TMI (Too Much Information) journal. I fill it with completely random facts about myself...weird things that I have encountered...likes, dislikes...medical jargon. There's no rhyme or reason to it which is great. I have a thought and I just run with it.
paper: My Mind's Eye; Bohemia
artwork: done by me, colored with prisma
ribbons: various
metal studs: colorbok
chipboard letters: pressed petals
Decorator tape: Heidi Swapp
Flower: Lil' Davis
Acrylic Star: Heidi Swapp
Chipboard Hearts: Heidi Swapp
metal photo corners: Making Memories
This past Christmas I altered some items and used it as the packaging for my gifts: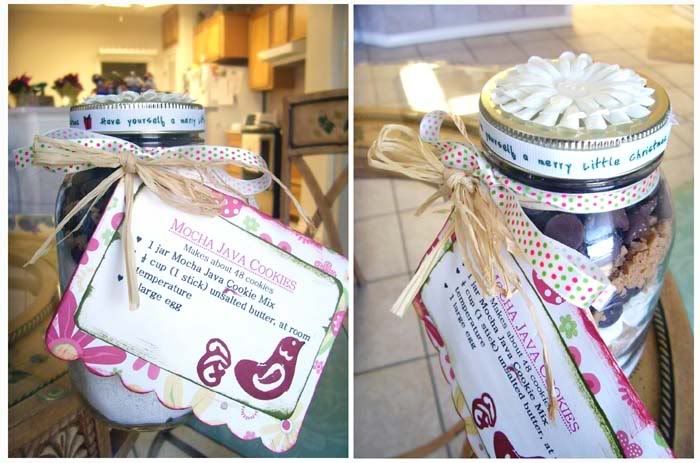 I was in line at the grocery store one day and I happen to see a little magazine called, "Gifts From a Jar." It gave directions on how to properly fill the jar with the necessary ingredients for a delicious baked treat. I ended up making a few differnt types; mocha java cookie jar, pumpkin cranberry bread jar, and some coconut and cranberry pancake jars. They were a huge hit with the recipients.

I took inspiration from the Marah Johnson "lovestruck" line with this sacred heart box. I drew the heart, coloring it with prisma colors again. I painted the wooden trinket box using making memories acrylic paints and then I modge podged the whole thing. This was a gift for my sister-in-law and I put the earrings I bought her inside.
This is the altered box I made for my brother-in-law. I used Basic Grey paper on the bottom of the box. The top was painted with MM acrylic paint, then layered with my drawing, followed by modge podge. This was actually my first project like this and it was a learning process. I learned you have to be careful when using the modge podge...too much prevented the box from closing. I had to sand down some of the glue and even then, the lid was tight around the box. I filled it with Almond Rocha's and an iTunes gift card.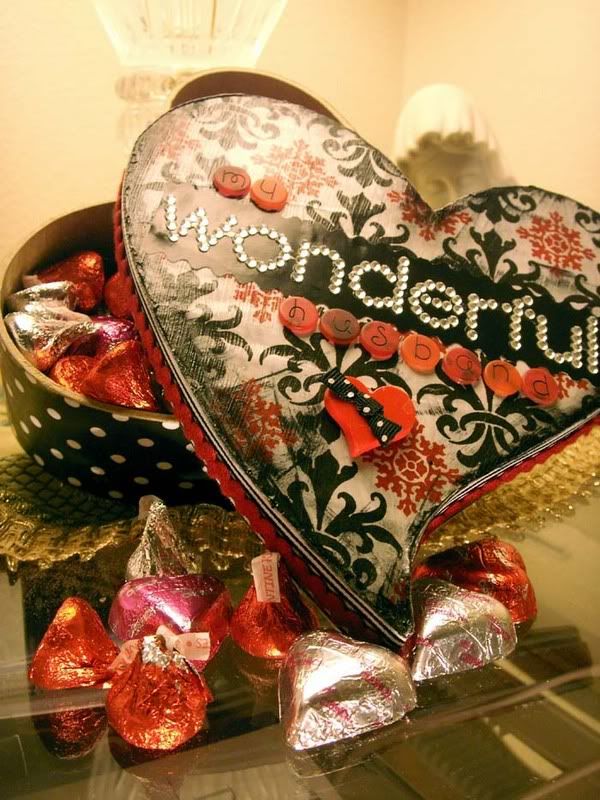 For Valentine's Day, I altered a paper mache heart. Unfortunately I cannot recall the manufacturer of the paper I used. It came in a huge kit my husband bought for me for Christmas. I distressed the edges of the lid using Ranger Inks. The outside edge of the lid is wrapped first with a black and white striped ribbon and then I layered red felt rik rak on top. The outside got a couple of layers of modge podge and I left the interior as is (I filled it with his favorite candies). The "bling" on the lid is by "Me and My Big Ideas" and the red acrylic circle letters are by Doodlebug.
TFL!
xoxo