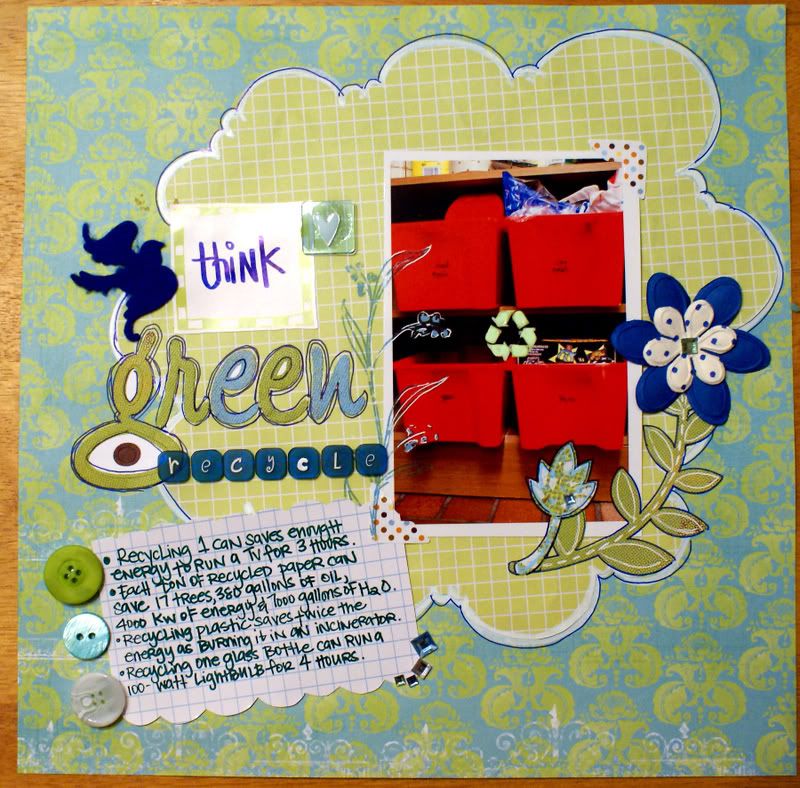 For the Color Your World Challenge (greens and blues).
I wasn't big on recycling until we moved here. Now it's second nature and I feel guilty if I throw something away in the garbage that could have been recycled. They have lots of recycling spots on base and when you're off base, recycling cans are readily available as well. Where we were from, recycling was not pushed. In fact, I don't recall seeing recycling centers sans the few "paper" dumpsters in front of a few elementary schools in San Antonio. I bet if it were more convenient for Americans to recycle, they would.
The photo is of my sorting bins that are on my shelves in my kitchen. I have one for glass, hard plastic, soft plastic, paper/cardboard, and aluminum (that's under my sink).
What do you think?
On a bummy note, Joanns ran out of that 101 cookie cutter set I ordered a while ago. :(
So I'm putting myself through a personal challenge right now, brought on by Cathy. I'm just going to copy and paste straight from her blog:
So I was browsing blogs this morning and came upon this fabulous idea which I'm totally going to take on. It's called a Stash Diet, I found it on
this blog
(http://jenniferandamy.blogspot.com/2007/12/simplify.html). The rules are below. This is a great way to save money, get rid of old stuff (you know the stuff we say we will never use again). It's true what the blogger said when she said that if my kids look at the LO's when they are older they are not going to say "oh man, that is the time when mom used all the 'old stuff' on our pages." They don't care what products or when the product was made just that there is something made of that memory. I love this idea and I hope that all of you join in with me and do this. It will be quite a journey to get out all that Stack paper and use it up.
This time no saving of the scraps lol....the rules are as follows.
1. Create 50 layouts using only products, tools, and supplies we have on hand.
2. Cardstock and adhesive can be purchased when needed. Who can make many pages with no adhesive?
3. Gift certificates, RAK's, DT kits are not included -those can be used.
4. Larger altered projects count as 1 layout.
I'm in. Why not. My wallet could use a break and I have a ton of things to use. We'll see how long this will last!! lol. So far, 1/50 done! Yippee!
xoxo