The past couple of days I've been feeling fairly productive. There's some DT layouts I need to work on...I don't want to wait till the last minute. But as far as doing things I need to do around the house, errands, organizing, etc I've been a woman on a mission. lol!
I'm always messing with my scrap area, which is in our dining room.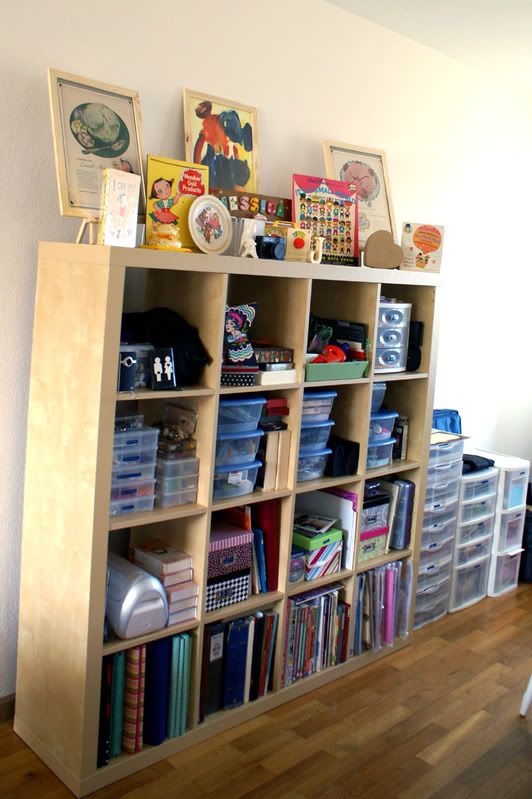 My Ikea shelving unit. I plan on adding an 8 shelf case next to it one day. The plastic bins next to the shelves contain my papers, organized alphabetically by manufacturer (OCD much?), then seperate drawers for chipboard, rubons, letters, stickers, and smaller papers (8x10, 6x6, etc). The next plastic drawers are alterable stuff like chipboard albums, notecards, etc.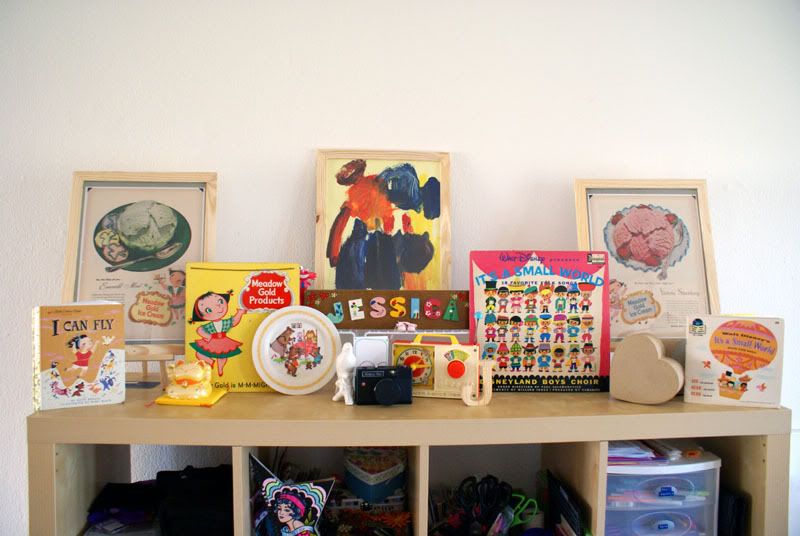 I love Mary Blair. Her artwork blows me away and I've become a small collector of her work. There's not alot out there and I can't shell out thousands on her original cell art, so I'm starting out with just vintage adworks and illustrated books. There's an old wooden sign that I've had since I was really, really little. And a vintage Fischer Price clock that still works...just little knick knacks here and there. Oh, and I framed a painting that Anberlin did at preschool. I love it. It looks like a human form, even though she says it's a flower. LOL!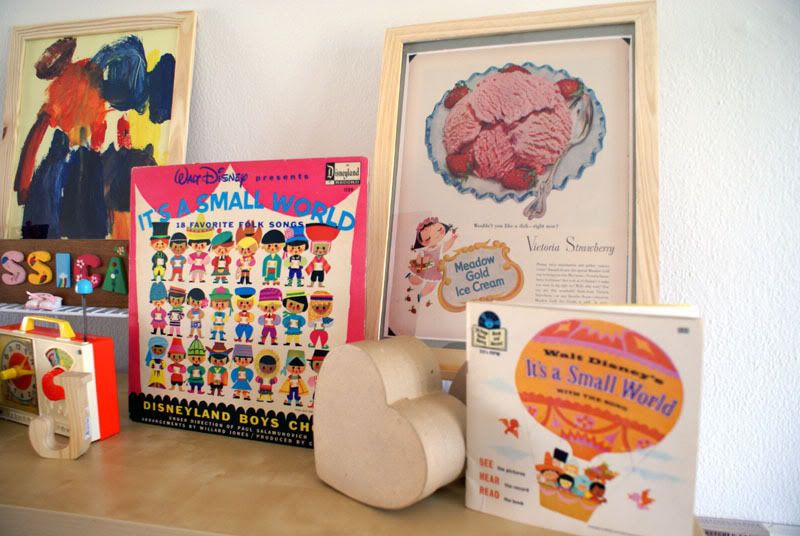 Here's another meadow gold ad and "It's a Small World" record album and book with her illustrations on it.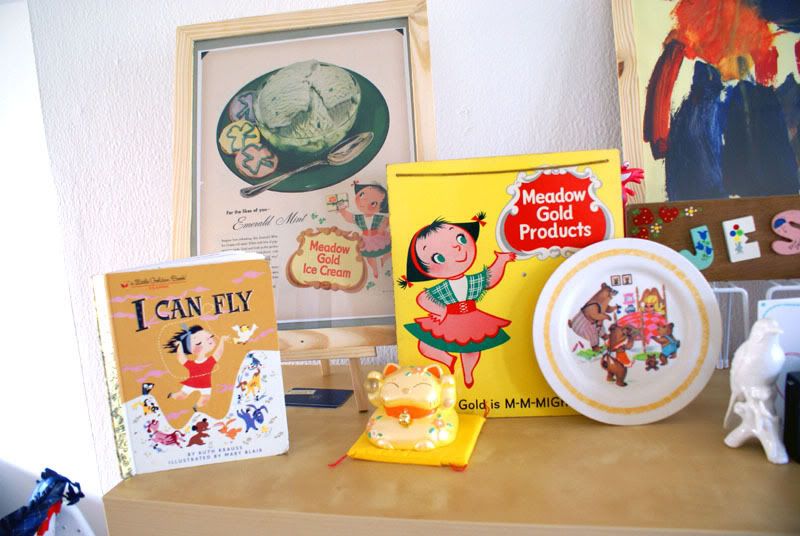 In the 1950's she worked with Meadow Gold and I've been able to snag a few things from that era. Also, I have the "I Can Fly" little golden book which is still in circulation. I have a melamac plate that has a "Goldilocks and the 3 Bears" scene on it. I am not positive if it's by her, but it's reminiscent of her style.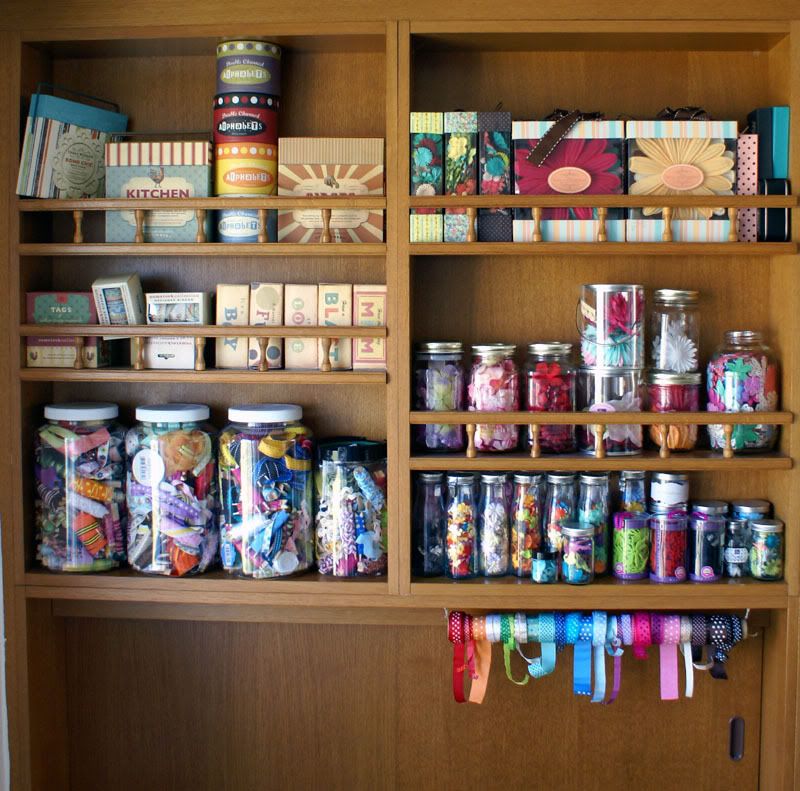 On the other side of the room, I've utilized more the built in bookcase for my ribbons, flowers, and more chipboard. I just added the ribbon dowel that's hanging. I utilized the cardboard tube that held my kid's art paper for their eisle. I didn't want to throw it and finally came up with a way to use it. I have another one that I'm going to hang...and I'll add more as the kids go through their papers.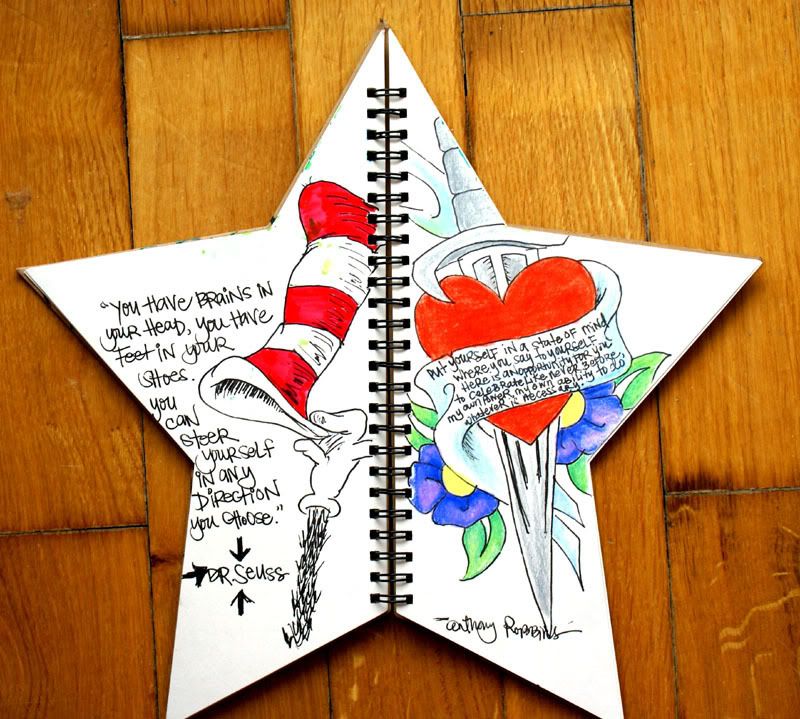 Day 7: "You have brains in your head. You have feet in your shoes. You can steer yourself in any direction you choose. You're on your own. And you know what you know. You are the guy who'll decide where to go.' Dr. Seuss
Day 8: "Put yourself in a state of mind where you say to yourself,'Here is an opportunity for you to celebrate like never before, my own power, my own ability to get myself to do whatever is necessary.'" Anthony Robbins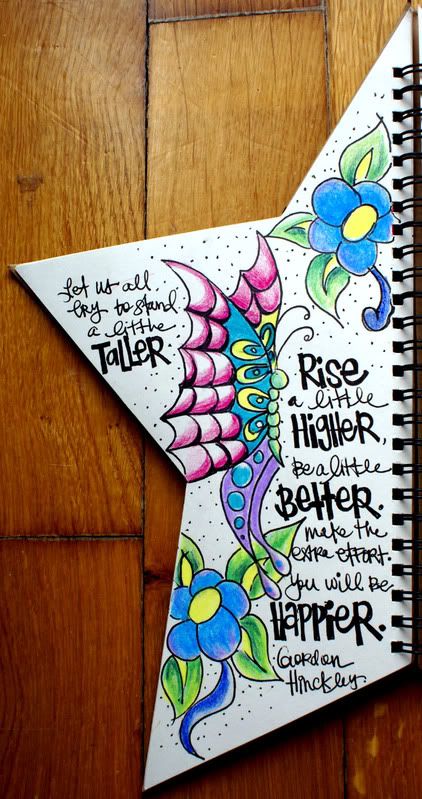 Day 9: "Let us all try to stand a little taller, rise a little higher, be a little better. Make the extra effort. You will be happier." Gordon B. Hinckley
Tomorrow is my 4 YEAR anniversary and Josh is 2 hours away. But, I'm going to drive and have dinner with him and the kids at the "DFAC" (dining facililty). What a romantic way to spend our anniversary, eh? It's ok, because at least I get to see him. The last 2, he's wasn't in the same state as me.
Off to run an errand. Please visit my previous post and leave a comment. You'll get a chance to win one of my necklace sets from my etsy (
http://jessicasummers.etsy.com
).
xoxo