Have you been over to ScrapMojo lately? Well, if you haven't, you have to go check out our 4 new design team members!!! Awesomeness. The new challenge is up as well. It's a Dr. Seusse themed. Use one of the printouts supplied from the links and use the title, "Oh the places you'll go." Here's my take on the challenge. This is Sebastian at SEVEN months. He's developed really fast. Here he is walking around, like it wasn't a big deal. lol.
My little munchkin. Ahhhhh, I miss them being all teenie tiny. Now, this is what I deal with:
Anberlin got some new rain boots, but I couldn't find any for Sebastian. Well, he's taken matters into his own hands and just steals them from his sister. LOL. I think we may go try to find some for him tomorrow.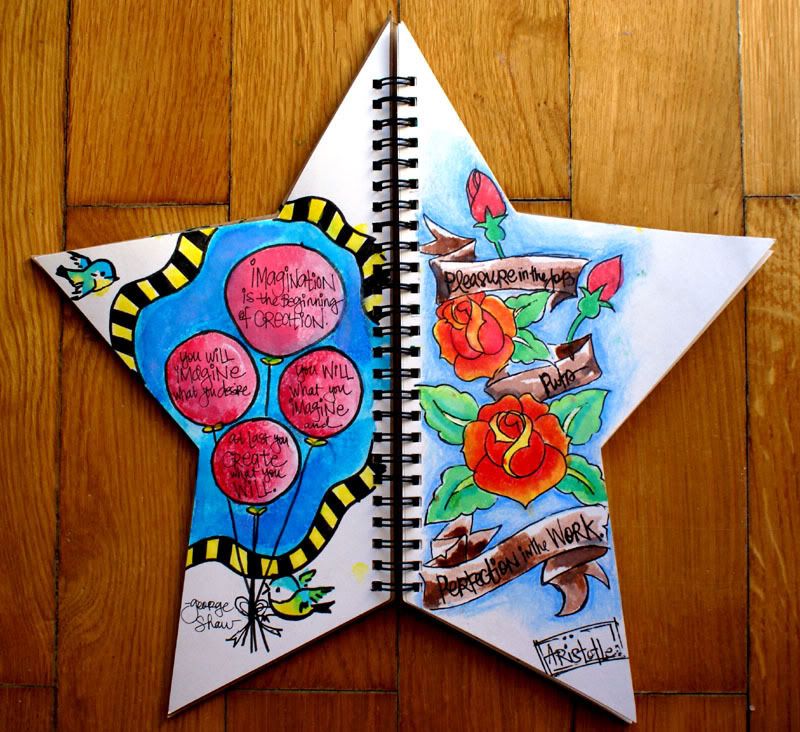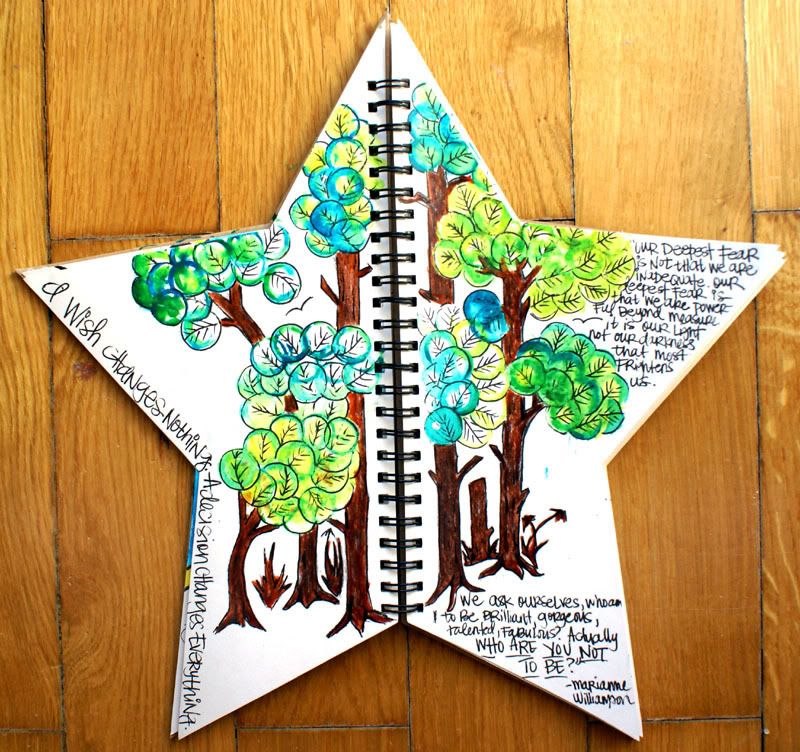 Here are my pages for days 3-6 for Rhonna Farrer's 21 Day Challenge. I've been using watercolors alot lately. I'm still trying to master the colors and whatnot, but I do like them. And you know what!?? Rhonna Farrer herself left me a comment on my last post! OMG. I was giddy last night. LOL!!! I love her work and she's definately a scrapper/designer I admire. So thanks Rhonna!
DAY 3: "Imagination is the beginning of creation. You imagine what you desire, you will what you imagine and at last you create what you will." George Bernard Shaw
DAY 4: "Pleasure in the job puts perfection in the work." Aristotle
DAY 5: "A wish changes nothing. A decision changes everything." Unknown
DAY 6:
Our deepest fear is not that we are inadequate. Our deepest fear is that we are powerful beyond measure. It is our light, not our darkness that most frightens us. We ask ourselves, Who am I to be brilliant, gorgeous, talented, fabulous? Actually, who are you not to be? You are a child of God. Your playing small does not serve the world. There is nothing enlightened about shrinking so that other people won't feel insecure around you. We are all meant to shine, as children do. We were born to make manifest the glory of God that is within us. It's not just in some of us; it's in everyone. And as we let our own light shine, we unconsciously give other people permission to do the same. As we are liberated from our own fear, our presence automatically liberates others. Marianne Williamson
My Etsy has reopened! I have a few necklaces up. It actually comes with a pair of matching earrings. Totally cute. And to celebrate, I'm giving away a RAK! Leave me a comment and I'll pick 3 winners to win a set! Woo hoo!! I'll pick in a week. http://www.jessicasummers.etsy.com
I kinda feel my creative juices surging again. :) So, how would you feel about some papers designed by me? Or maybe a font? All of that just may become a reality in the near future. Eeee! Totally excited about that. Ok, off to work on some stuff.
xoxo