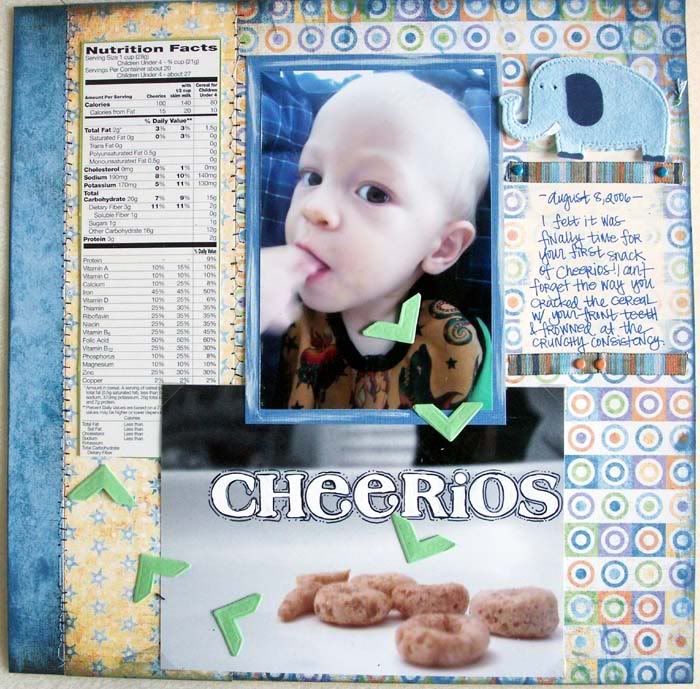 Cheerios
Patterned Paper: Basic Grey (Oh Boy!)
Cardstock: DCWV
Letter Stickers: Basic Grey (used as a mask only)
Photo Corners: Heidi Swapp
Elephant: Jolee's
Ribbon: American Crafts
Brads: Making Memories
Paint: Making Memories
Distress Ink: Ranger Inks (blue jean)
White paint pen: Zig
Black Pen: Zig
Blue Pen: Sakura
Sewing Machine
A few techniques on this page:
1. Sewing: I sewed the three different patterned papers together. I love this look. Simple. Classic. Easy. My sewing machine isn't mine, it's my mother's and it's an old Brother machine from the 70's. It hates me. LOL. I can never get the stitches to come out properly, but I still like the look of the messy stitches.
2. The "Cheerios" title was made using Basic Grey sticker letters as a mask. Originally, when i laid them out on the layout, the color on the stickers didn't pop enough for me. So i outlined them using a black Zig pen and then I colored them in using a white Zig paint pen.
3. The photo of the Cheerios is altered. I LOVE this technique and hope to use it more and more in my future layouts.
If you're not familiar with this method, here's a quick tutorial that I lovingly borrowed from a MySpace group "Scraplifters" ran by Kristin.
I used Adobe Photoshop, but you can do this with other programs as well. -First make a duplicate layer on the photo (my program automatically does this when you adjust the hue of the photo, but with some other programs, you do it manually). -Next adjust the color saturation on the top layer to zero. -Highlight the area you want to stay colored (using the magnetic lasso). I usually do this a little bit at a time so that if you accidentally go outside of the portion you want to change, you don't have to start over completely.-After you've highligted the area you want colored, hit delete. This will remove the top layer (the black and white layer) so that the bottom layer (original colored photo) shows through the hole. -Finally, flatten the layers in order to save the file as a jpg.
4. I cut the nutritional label off the Cheerios box to use as an embellishment.
5. Sometimes I just don't know where to put journaling. On this particular layout, the paper was pretty busy. In cases like this, I'll grab my handy dandy acrylic paint and just paint over an area I want to do my journaling in. Works just about everytime.
6. The photo corner circle...first, I grabbed something circular. I think I used the small end of a lampshade for this. I marked a small dot in each spot I wanted to place a photo corner. It's not exact and the spacing between them isn't even, but I wanted a circle effect and a circle effect is what I got!
:D