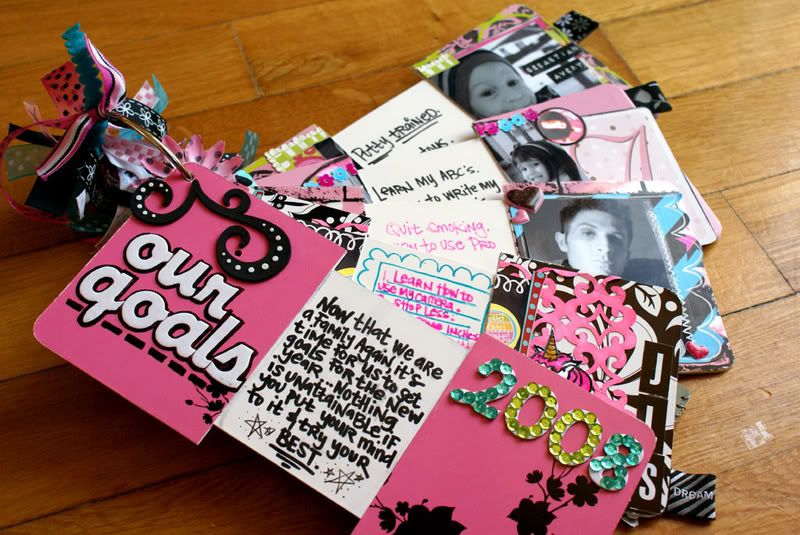 Let me start off with the Urban Lily Secret Keeper album. There were was a bit of confusion on how it works, so here is a photo of the boards pulled apart to expose the journaling. :O) Cool, huh?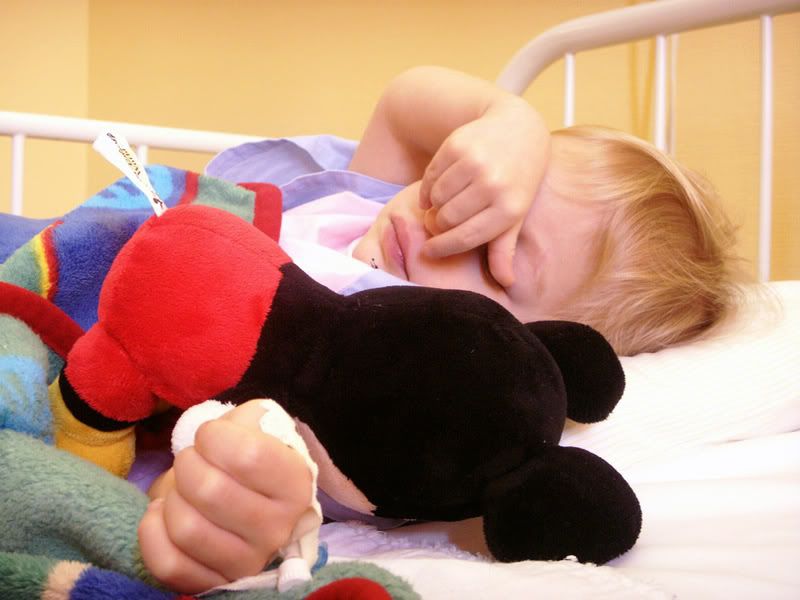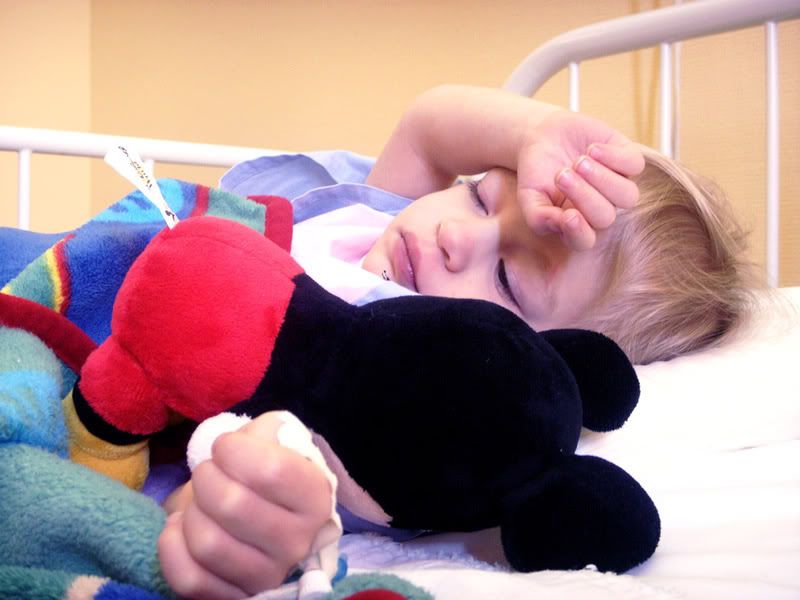 Sebastian's surgery went well! Thanks for all the well wishes. My experience was pretty good despite the language barrier. Some of the nurses spoke a bit of english, others didn't at all, but I toughed it out. I'm going to admit, despite the fact that I was there helping Sebastian recuperate, I had a pretty awesome break from everyday life. We had a private room. All of my meals were brought to me (and unlike American hospital food, the German food was YUMMY), in the afternoon a lady brought me cake and whatever coffee drink I wanted (regular coffee, cappuchino, machiatto, etc). I didn't have to do any cleaning, and I was able to do a bit of scrapping and Sebastian got alot of one on one time with me. :) Plus, just down the hall was a fab coffee maker at our disposal. It was SWEET! Seriously. At the push of a button (choose which type of coffee you'd like) it would grind fresh coffee beans, and then make your drink. FOR FREE. lol. Josh kept going back...he'd get an espresso, then cappucino, macchiato, regular coffee, then hot tea. LOL. And they also had about 7 tea bag assortments for us when we tired of coffee.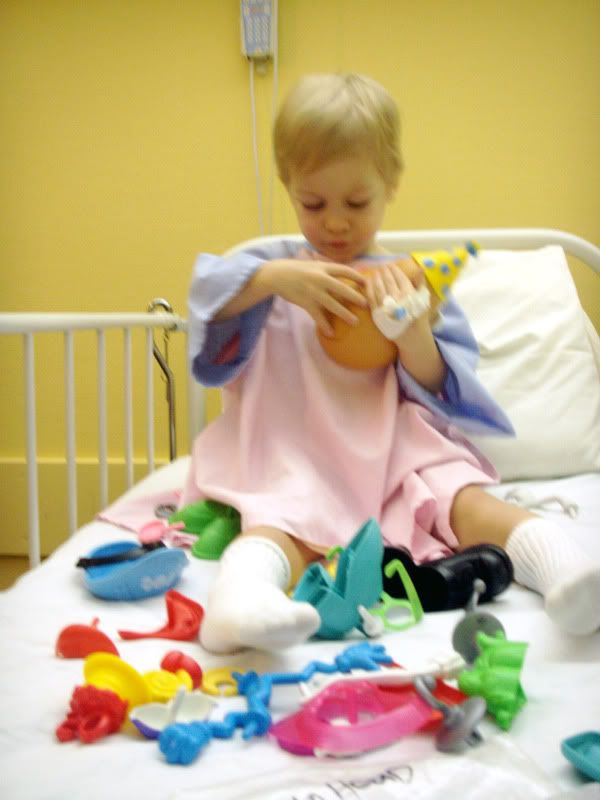 (I brought my old digital camera and it's been on the fritz. Alot of my photos came out blurry.)
Anyways, enough about coffee. So the day of Sebastian's surgery, they gave him some drops to make him "sleepy." He seemed fine to me! When it was time to go to the operating wing, the nurses said we couldn't go past the doors. :( He seemed fine when they wheeled him away, but I started sobbing. I've always been one of those "what if" type of person and a million scenarios were going through my mind. The night before I sat all of us down and did a quick family photo just because IF anything happened, I didn't want that regret...you know, not having a family pic. I'm a sap. What can I say? About 2 hours later, they brought Sebastian back to his recovery room and he was screaming bloody murder. The nurse was holding him because he tried clawing his way out of his bed. When he saw me, he nearly jumped into my arms. He was shaking and my heart nearly broke. I hate seeing my kids like that. It took about 20 minutes for him to calm down. He was kinda out of it for a couple of hours, but once the anesthesia wore off, he was nearly back to normal. He was sitting up in his bed, playing with toys, watching movies that I brought. :) The next day he was out of bed and didn't even act like he had surgery. He only has one stitch on his abdomen and I think it took like one or two stitches to fix the problem on his inside.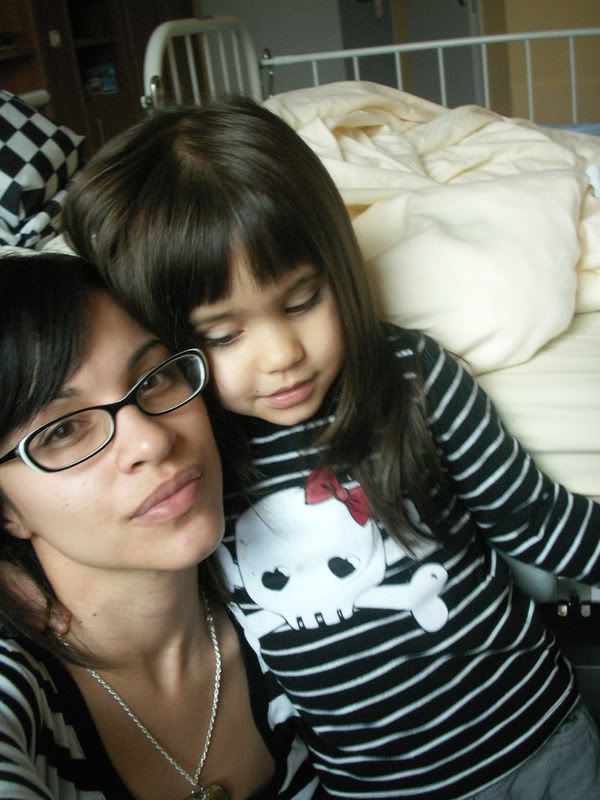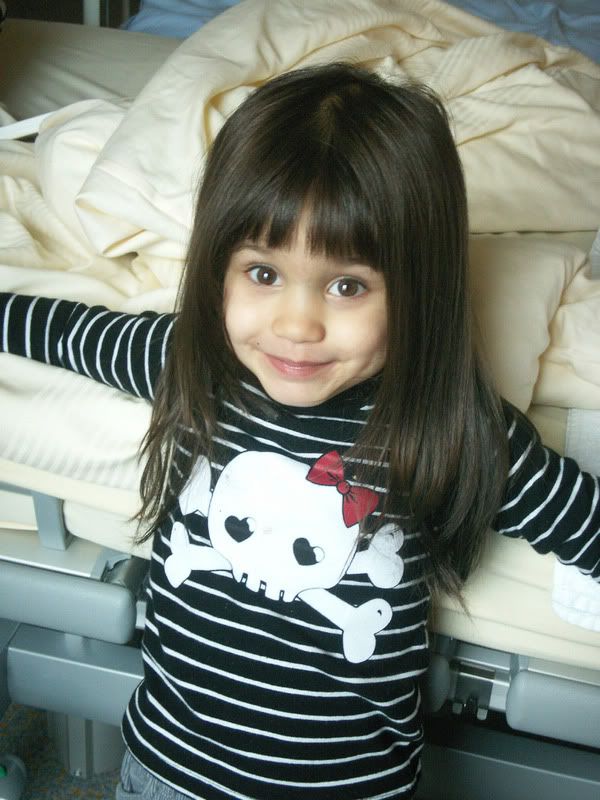 Anberlin did pretty well with the whole experience. After her visit on Saturday, she got to spend the night with her best friend (Josh's bandmate's daughter). Josh stayed the night there too so they could leave together in the morning. She loved it. The next day she talked nonstop about it.
Now that we are back at home, he's back to his normal, hyper, crazy self and it's driving me crazy!! LOL. I guess I'm freaked that he'll rip his stitch or hurt himself. Anyhoo, here are some older pics from a couple of weekends ago when we ate sushi. This was the best Chirashi bowl I've EVER had. I just wish it wasn't so darn pricey.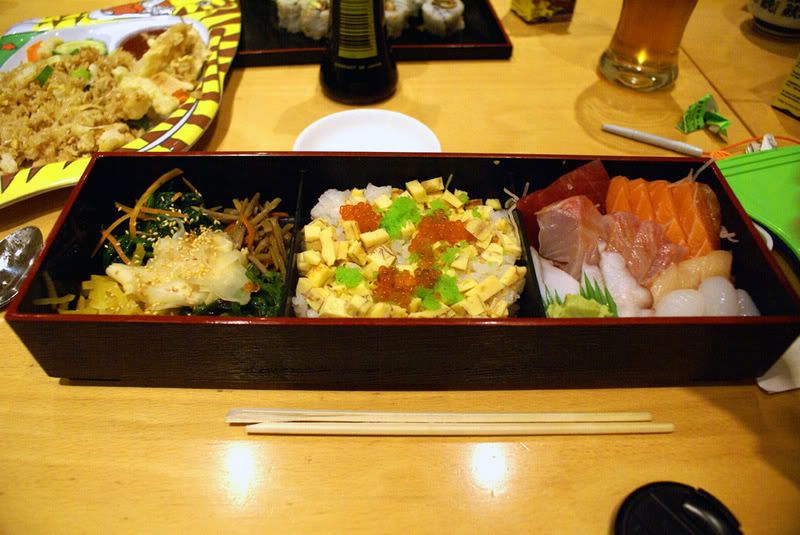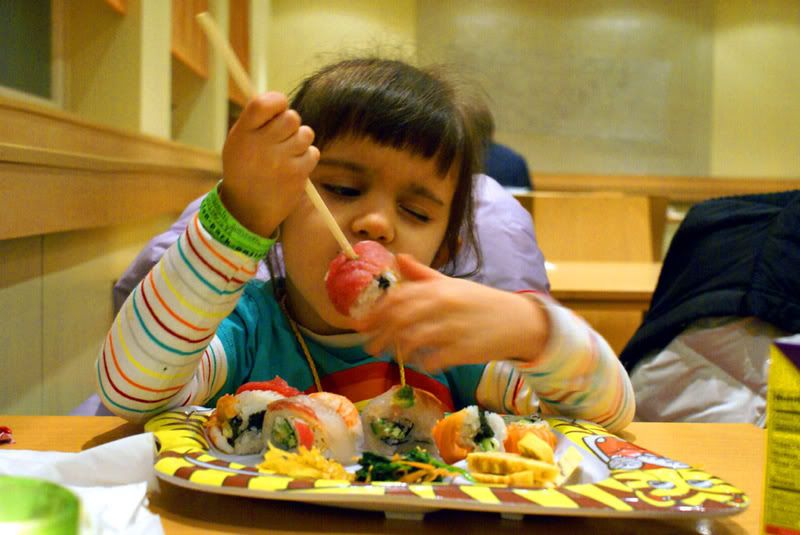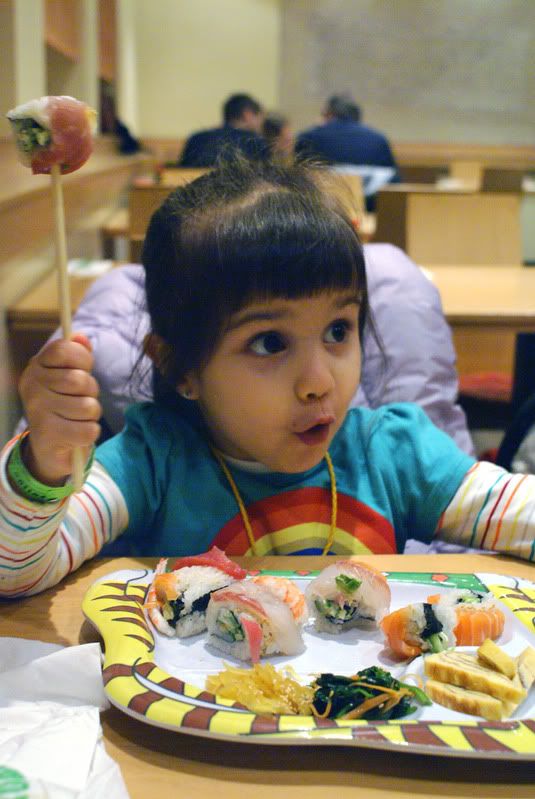 Anberlin couldn't quite get the whole purpose of chopsticks down, so she used them the best way she could. :D LOL. She was really proud of herself. Pardon the grainy photos. I'm still figuring out the settings for indoor, lowlights on my camera.
I'll leave you with some sneaks. If you haven't yet, you NEED to check out the European DT that I am on. http://adailyinspiration.blogspot.com/. It's pretty awesome. Everyday a new layout is posted by our extremely talented design team. Seriously. These ladies blow me away! Also, don't forget that Scrapping the Music has weekly challenges and ScrapMojo will be having an uber cool new challenge coming up. PLUS we're having some pretty friggen cool guest designers in the upcoming months. Some serious talent that will make you shriek. I know I did. hee hee.