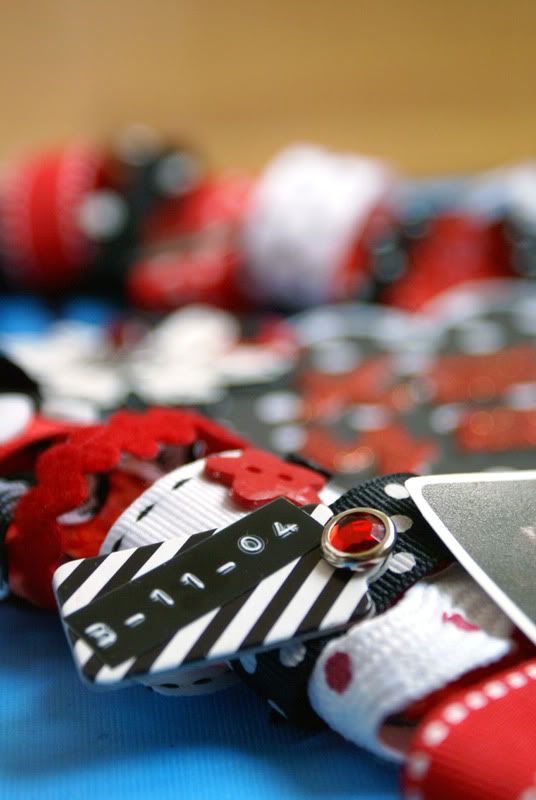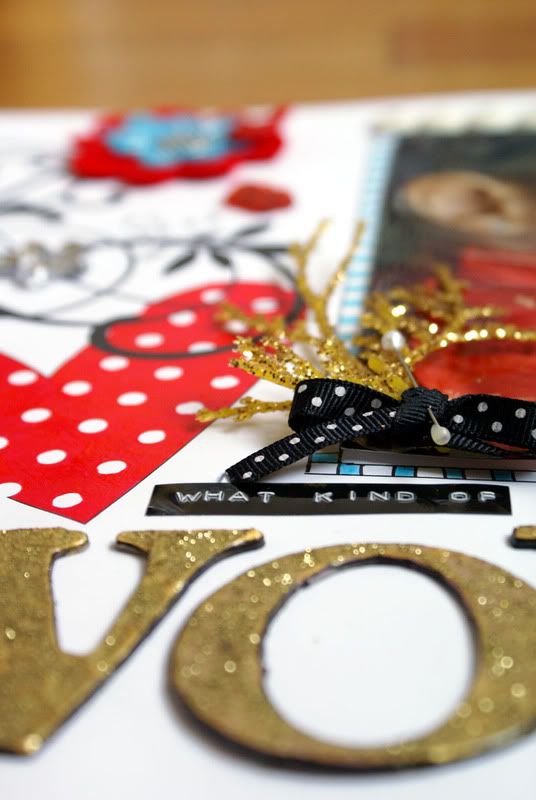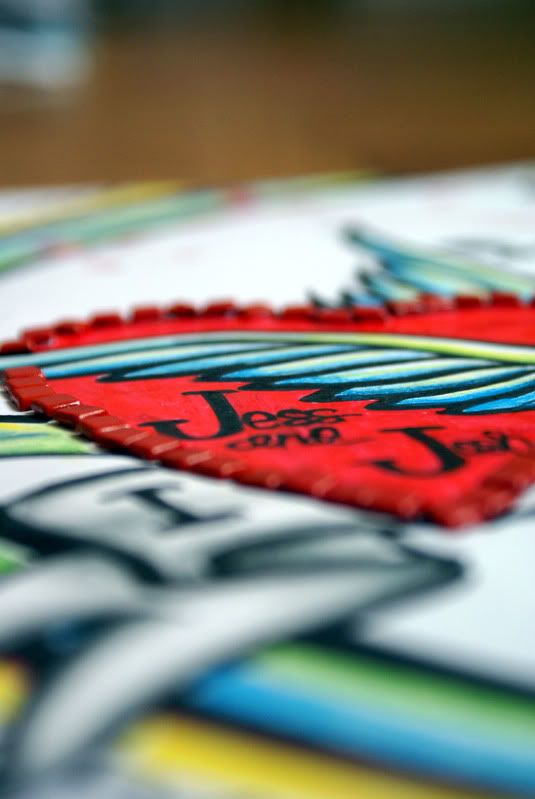 Hello out there! Life around here has been busy, busy, busy! During the week I'm sneaking in scrap time and the weekends are filled with touristy adventures. :) There's a few sneaks above that I'm completely excited about. I'm so happy with my next Mojo layout. I tried something completely different and love the end result. Also, as you can see by these sneaks, I'm a bit stuck on using certain colors. I can't help it! I keep finding myself using black, aquas, pinks, and reds!! HELP!
A couple of weekends ago we ventured to a little town called Grafenwoer where we visited a HUGE post exchange. I always get a kick out of this ridiculously HUGE tv they have on display at the main entrance. Seriously, who in their right mind needs a 72 inch TV? I posed the kids in front to show proportion.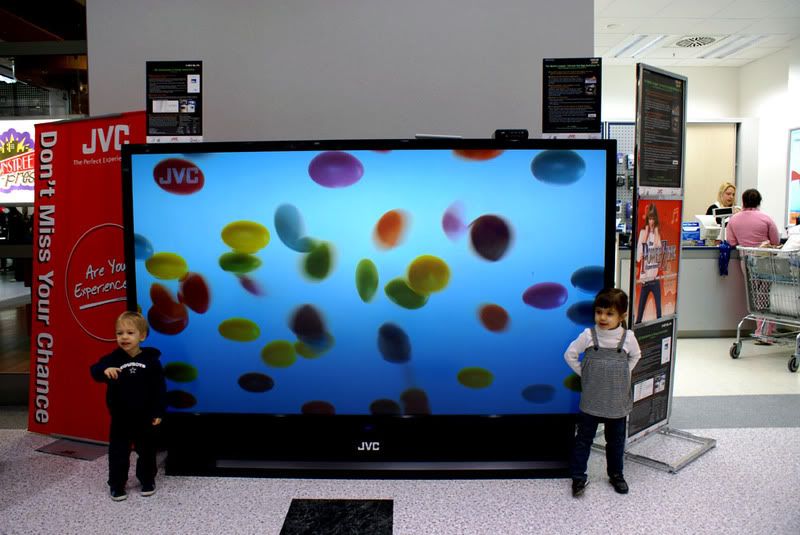 Last weekend we went to Nuremburg. It's such a cute city, with a gorgeous downtown area. It's surrounded by a medieval wall and has this HUGE church in the town square. I haven't done much research on the town, so this isn't going to be one of those history type posts. :) Just a few pretty pictures. We're going back tomorrow. It's less than an hour away, so it's a good place to explore.
The kids got a big kick out of the street performers. They were so cute putting coins in the violin cases.
Starbucks! I was so thrilled to see one. Now, you may be thinking to yourself, "Didn't she trade Starbucks for some other brand?" Yes. But that's what we brew at home, when we're out and about, I want my Grande nonfat, sugar free, Vanilla latte. Mmmmmmmm. The barista made the kids some itty bitty cups of their Strawberrries n Cream shake.
There was a really cool comic store that had art pieces in the window. I thought this mickey mouse was awesome.
Directly across from this store was a fairly good size asian market. That was a god send b/c our grocery stores are lacking in the way of asian foods. A couple of nights later, Josh busted out with this delish meal for us. The pot has chapaghetti in it, which is only found in asian markets. It's a korean noodle dish that comes in a packet similar to ramen noodles. But it's not soup. They're noodles in a Chajang sauce, a black bean sauce usually made from cultured soybean. You cook the noodles like soup, but you drain the water and then add the little packet of Chajang sauce and get what Josh has dubbed "black ramen." The flavor is hard to describe. It's suttle, and tastes awesome mixed with Kimchi (pictured in the large glass jar). He fried up some taki mandu, which is a vegetable dumpling. And I so lovingly fried up some dried anchovies. Don't gag. They're crunchy and SOOOOOOO good dipped in a little mixture of soy sauce and vinegar. Oh, and of course we have our steamed rice. :D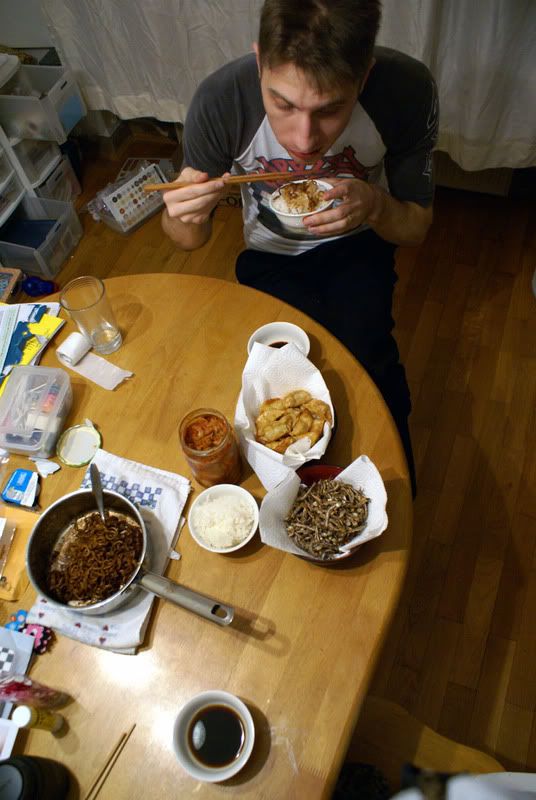 Well the weather here has been cold, but not the "HOLY CRAP" kinda cold I was expecting. I bought the kids snow suits and they haven't been able to use them yet. :( This is a typical scene around nap time. I hop in the bed with kids, and read a few stories. Then we snuggle a bit before they fall asleep.
OMG I've been getting such awesome mail lately!!! I wish it were like this everyday! We got a package from one of Josh's sisters that we thought was lost in the mail. One of the things in it was a cute cute cute piggy bank for Anberlin!! Ah! It makes me happy just looking at it.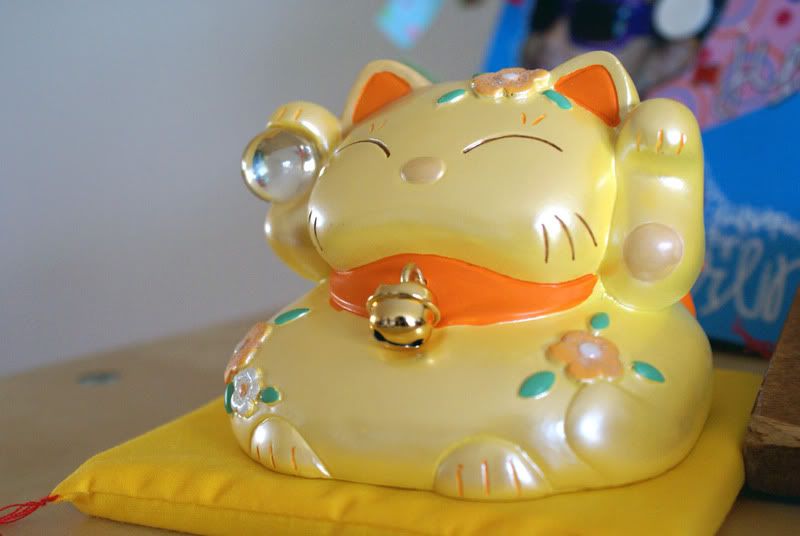 Here's a card from the super talented Michelle Clement. I saw it on her blog a while back and was so thrilled to get one myself!
Here are most of the felt flowers I received from CareFree Glimmer (http://www.carefreeglimmer.etsy.com/). She has a touching story about her daughter on the page. If you're ever in the market for some felt flowers, I'd look into shopping with her! Here is the owner's blog: http://www.heyanne.typepad.com/.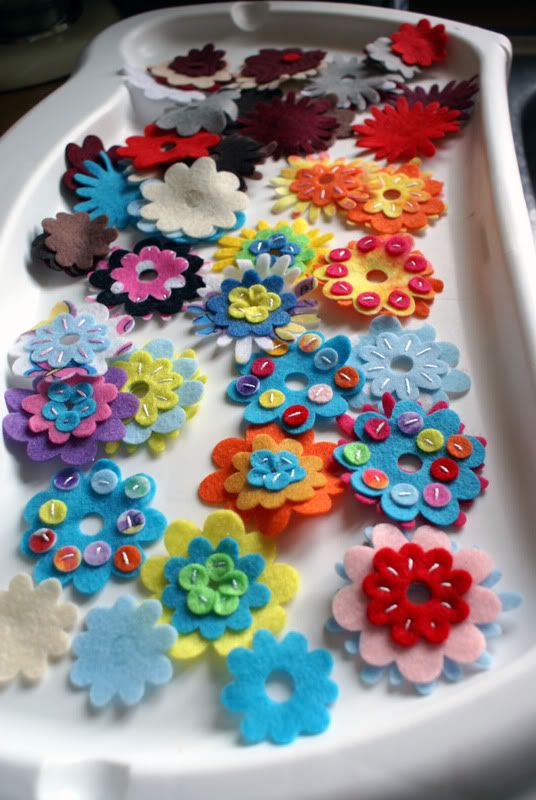 OMG. Magistical Memories SPOILED me rotten!!!!!! These are the goodies they sent me for my guest designer spot for next month. I've already started playing. Eeeee!! I got TWO of those mixed up books. I've been wanting one for so long! Oh and the potty people are stinkin awesome!! http://www.magisticalmemories.com/.