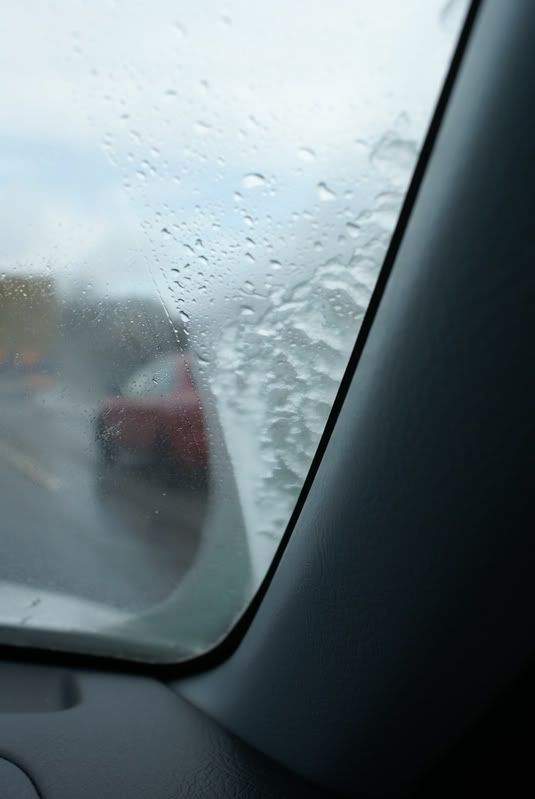 We left for Garmisch on Friday morning. As we were leaving the base, snow flurries were starting to come down. Majority of the trip, it snowed! A few times I nearly had a panic attack, because it wasn't like a nice soft downfall. It was mixed with rain and sometimes it was hard to see. Plus, traffic was CRAZY! What should have been a 3 hour or so drive turned into over 7 hours on the road. Seriously. We were a grouchy bunch by the time we arrived. It was worth the drive though.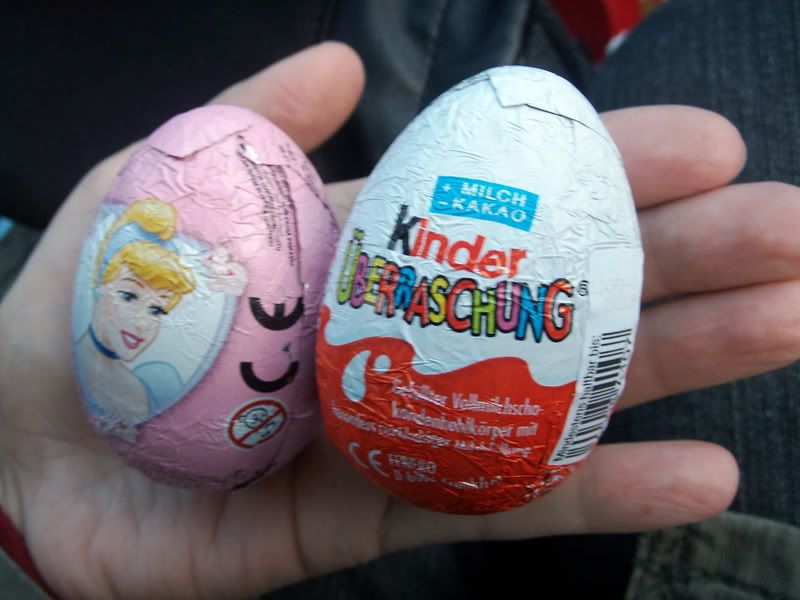 At one of the gas stations, I found these "kinder" eggs and it brought back memories. When I was younger, living in Sicily, I used to eat these. They're just chocolate eggs. The one on the right has white and milk chocolate. Inside each egg is plastic egg and inside that egg, there's a litle toy. I loved getting them at Easter. I remember one year collecting a bunch of cute little frog figurines out of them. Anyways...
Edelweiss Lodge and Resort is a military hotel, so it's not open to the general public. We have to go through a military style gate in order to get to the hotel. It was pretty big and really nice. After we got checked in, Josh and his friend went to get some Chinese food while the wives and kids got dressed to go swimming. Chinese food? Let me tell you, it was sooooo good. I was starving and hadn't had chinese food in a long time. After dinner we went to the indoor pool. Everyone was trying to convince me to go OUTSIDE to the hot top. Hello? It was snowing still!! I stepped outside, did an about face, and jumped back indoors. The kids and I stuck with the heated indoor pool. They had a lot of fun and snapped them out of the foul mood they were in from the drive.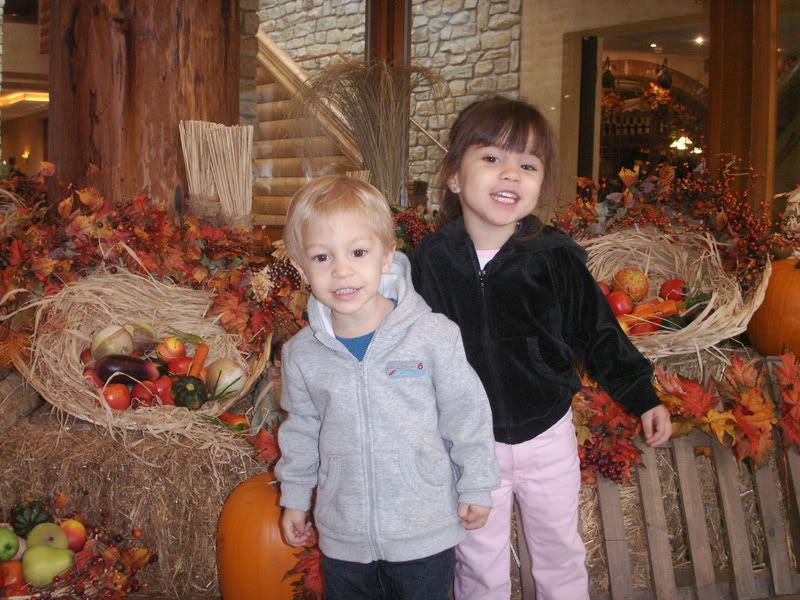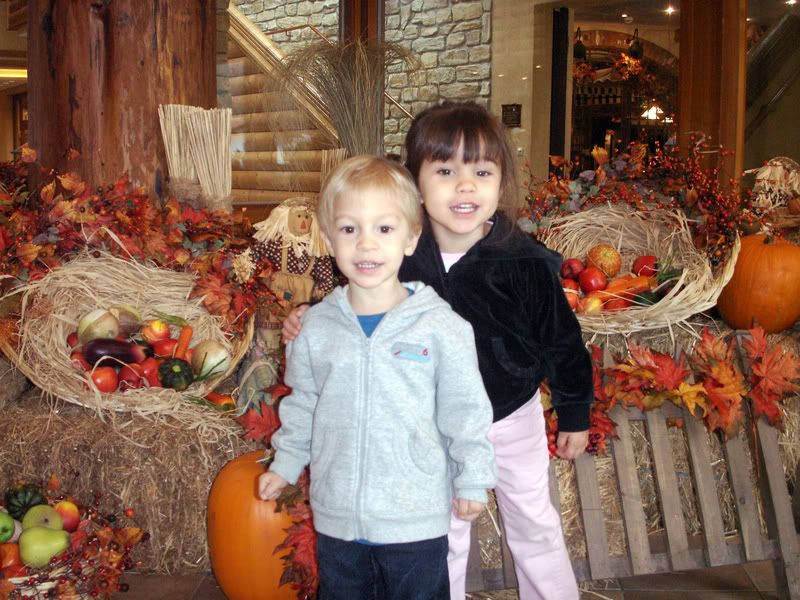 Here are my kiddie pies in the front entrance of the hotel. They had a gorgeous fall setup. I bet their Christmas decor is going to be fabulous.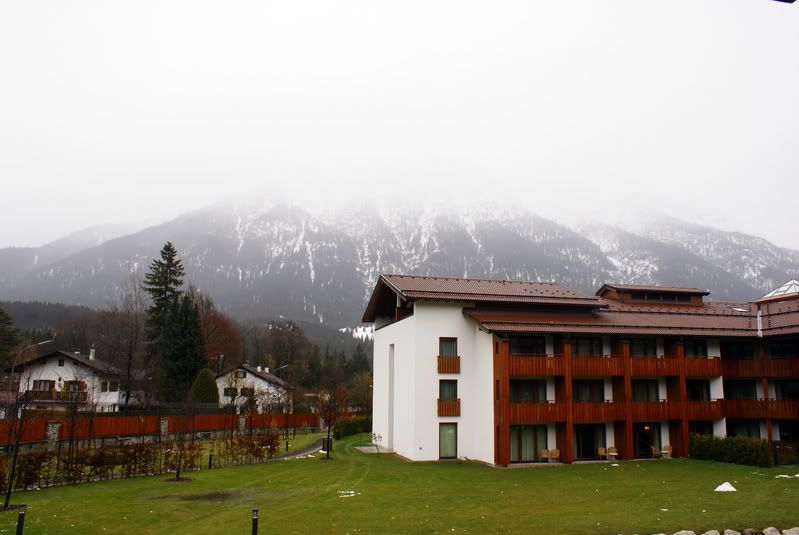 This is the view from outside our room. I wish I had photographed it on Saturday when there was snow on the ground. It was so pretty.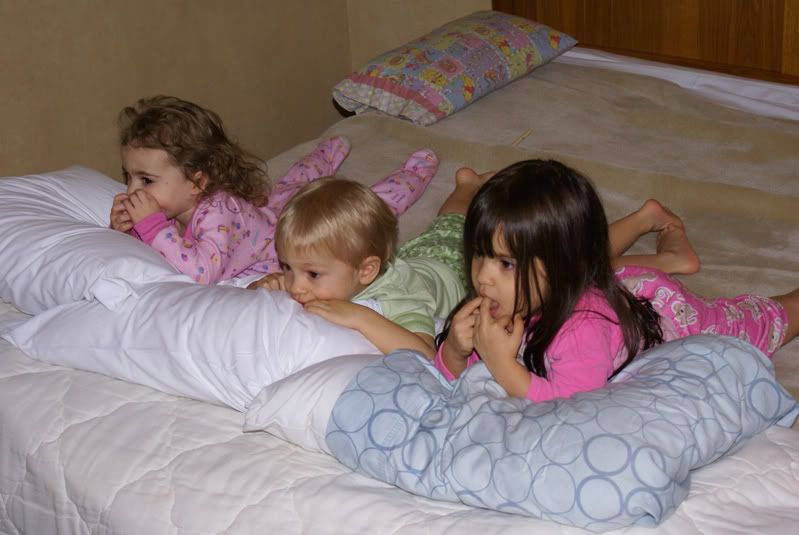 After we went swimming, it was up to the room to clean up and unpack. Josh and Kyle were going to meet up at the bar downstairs. I offered Kyle's wife Donnell to watch their little girl so she could go out with the boys. The next night, I dropped my kids off with her. It's nice to have someone to swap kids with. :) Here they are watching "Meet the Robinsons."
When the kids woke up the next morning, they were so excited to see snow on our balcony. They didn't hesitate getting dressed, and despite the cold, they ran out to touch the snow. Their reactions were adorable, their curiousity even more so.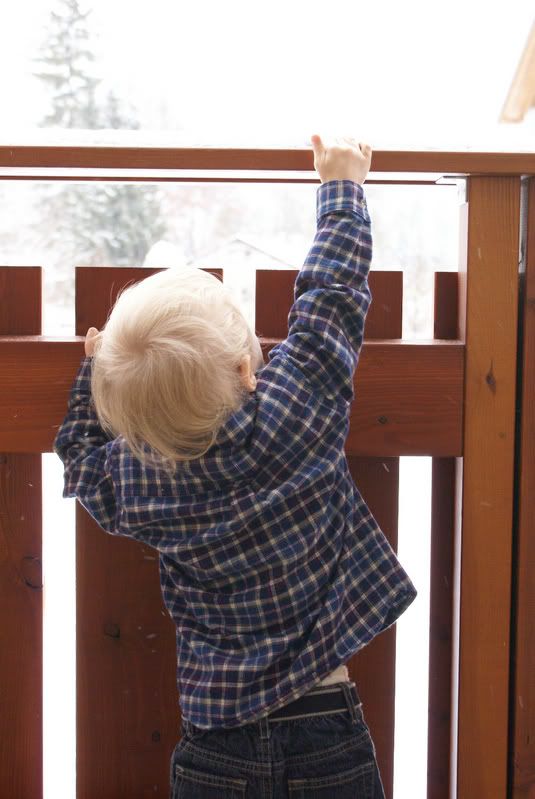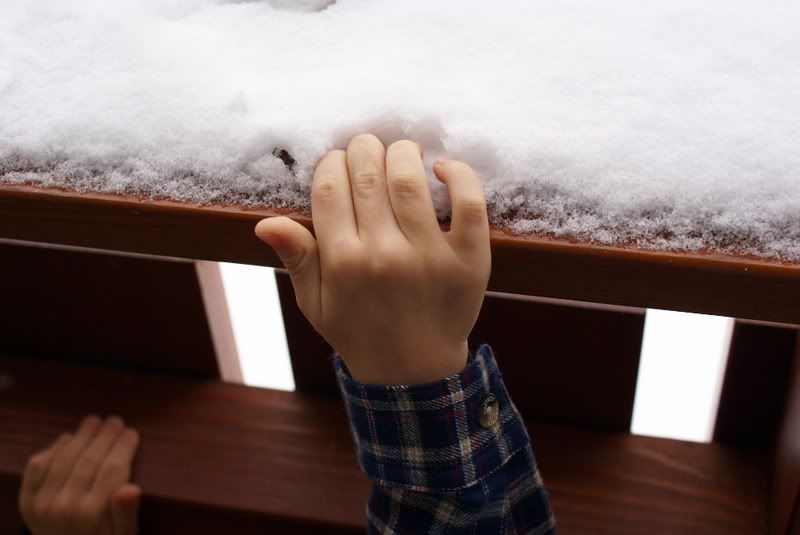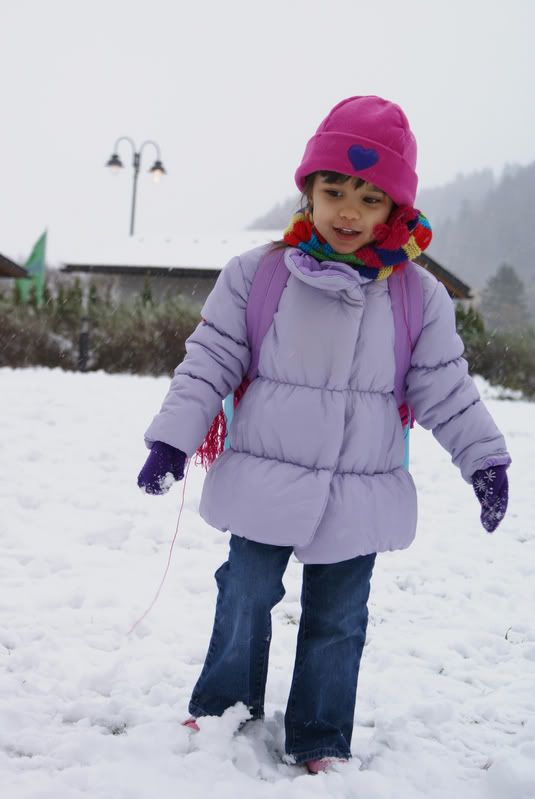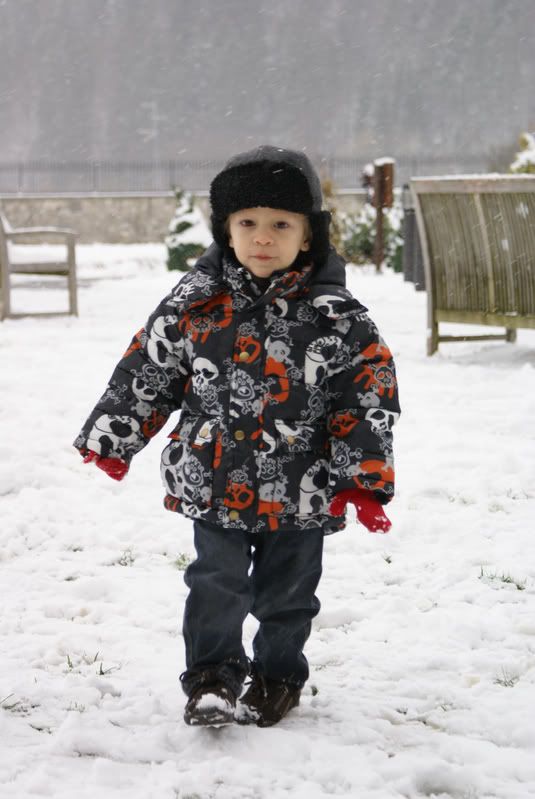 We began our journey to the Neuschwanstein Castle in the early afternoon.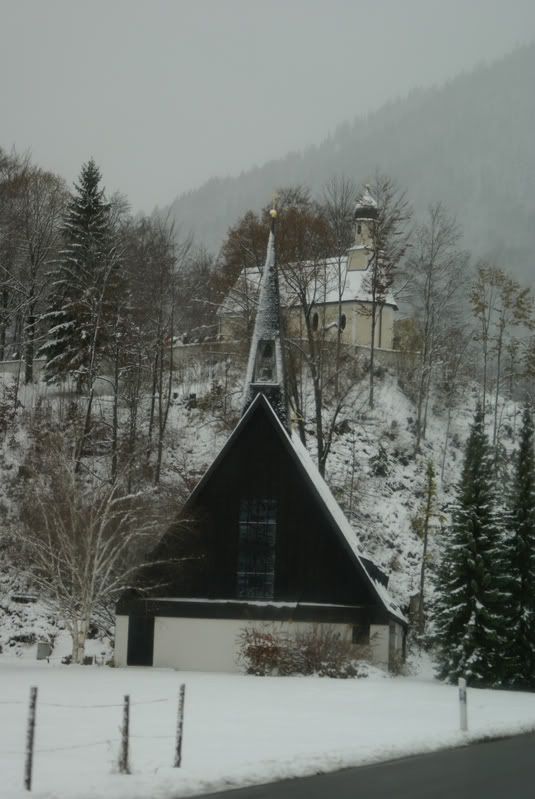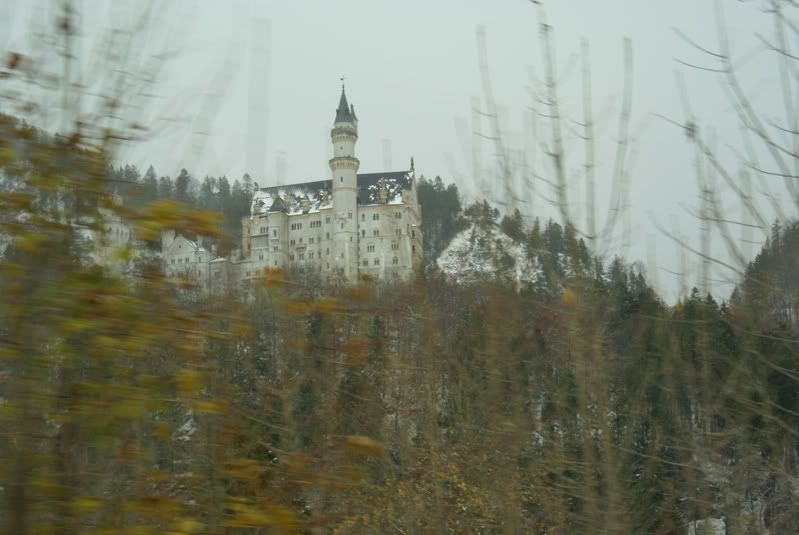 It was a pretty long trip. I was under the impression that the castle was just outside the town of Garmisch. Not so much. LOL. It was probably an hour and a half away. You have to start your walk to the castle in the small village of Hohenschwangau, where you can see another castle. This is where Kind Ludwig II lived with his parents in the summer months. This castle is done in a romantic, neo-gothic style. We did not have an opportunity to tour this castle as it was already late in the day.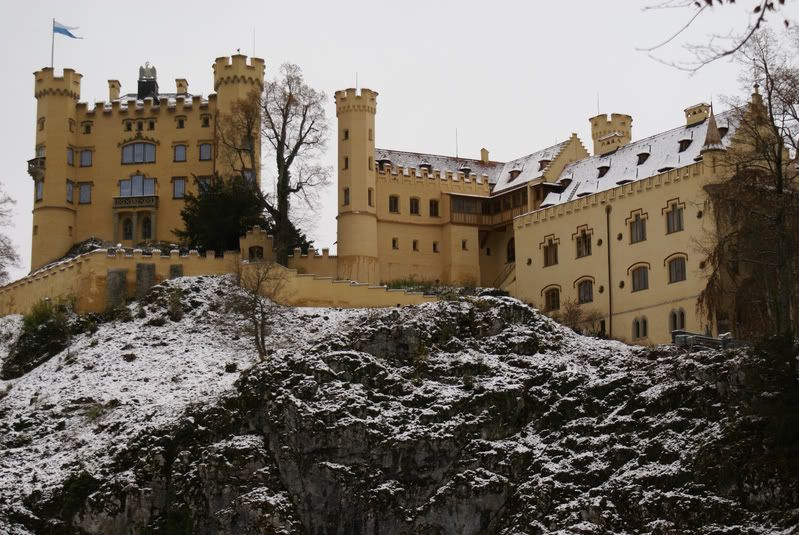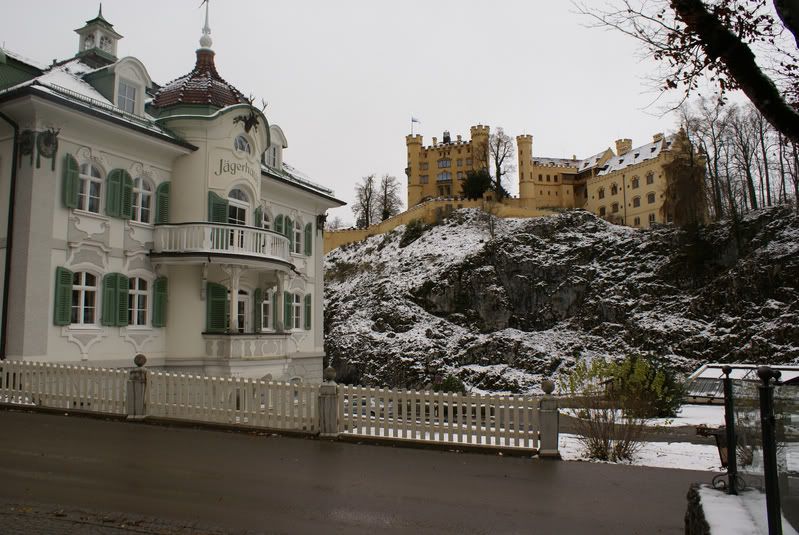 Here you can see just how close this castle is to the village.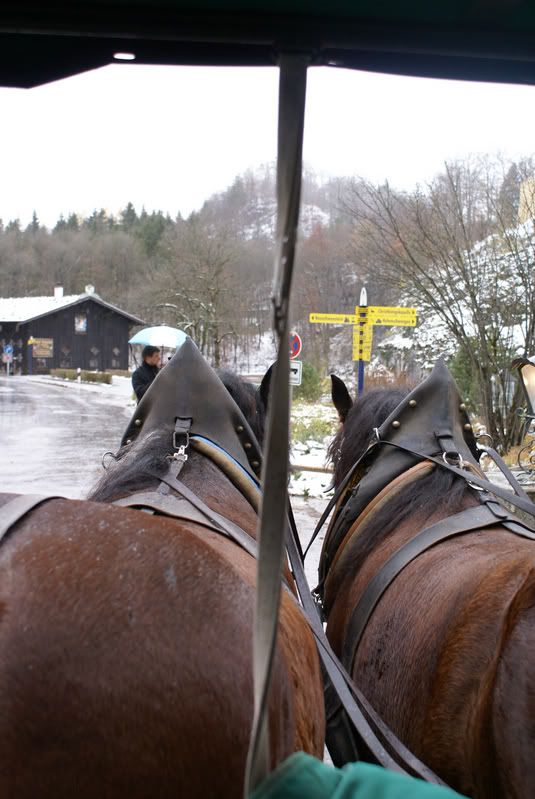 The path to the Neuschwantstein Castle is a steep, uphill walk that supposedly takes 30 minutes for the person who is in shape. For people like me who sits on their butt all day and is toting two toddlers, it probably would have taken over an hour. LOL. Generally there is a bus service, but there wasn't on our day. Figures. So we opted for the services of Lucy and Julia, in a cute horse drawn carriage. Before we left though, we got a quick bite to eat at Hotel Muller. Josh ate Jägerschnitzel a thin pork or veal cutlet smothered in a rich brown mushroom gravy. YUMM-O. I wasn't starving, so opted for a ham plate that had a fresh roll, a couple slices of pumpernikel bread, slices of boiled ham, and prosciutto. I love prosciutto. OMG. so good.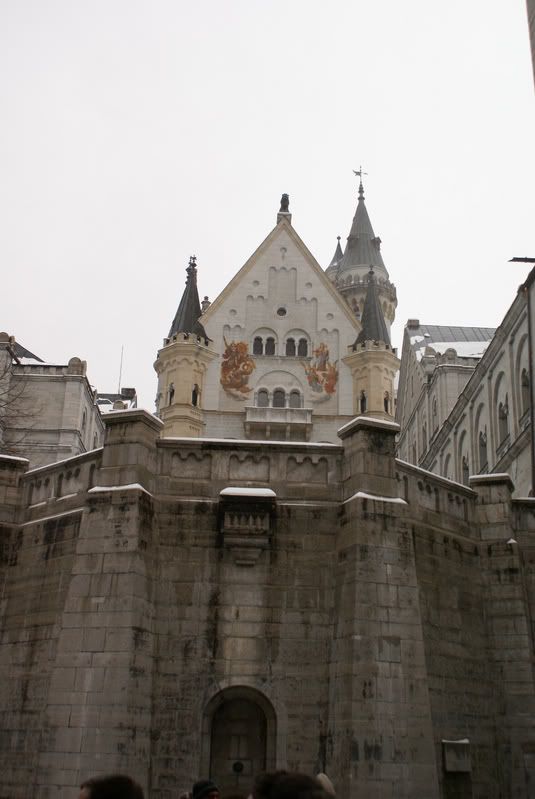 Here is the upper courtyard. In order to gain access to the castle, you have to purchase a ticket in the village below. On it, you are given a time and tour group number. You HAVE to abide by that or else you can't get in. We made our tour time with a few minutes to spare. Unfortunately, they do not allow photography inside the castle. I wish they would change it to "flash" photography, because that's what does the damage. *sigh* It's so pretty. There's not a lot that is open to the public...only the finished rooms are viewable/accessible.
**The following photos were not taken from me, but instead are from the neuschwanstein home page. I wanted to show ya'll the inside of the castle!**



The first room you visit is the servants quarters, filled with solid oak furniture.
The Throne Room in the form of a Byzantine church looks as if it is decorated with precious stones and mosaics. The pillars are however made of coloured stucco and the "mosaics" are paintings.
The Throne Room without a throne: wall painting "Christ in his glory and canonized kings" in the apse of the Throne Room, Wilhelm Hauschild, 1886.
On the table a centrepiece sculpture of Siegfried fighting the dragon, on the walls scenes showing minnesingers in the Wartburg (F. Piloty and J. Aigner).
Ludwig's bedroom with the richly decorated, cathedral-like bed. On the walls paintings illustrating the Tristan and Isolde epic.
The "Gothic" Oratory is accessible from the Bedroom and from the adjacent Dressing Room and was for the king's private use.
Salon with the painting "The Miracle of the Grail" by Wilhelm Hauschild, 1880/81.
The Singers' Hall under the roof of the Palas was inspired by a Munich performance of Richard Wagner's Tannhäuser. It was modelled on the historic Singers' Hall of the Wartburg. The Singers' Bower can be seen in the background.
Here's a quick history of the king who lived here, King Ludwig II. Skip over it if you want. LOL. This is a looooong blog.
King Ludwig II.
King of Bavaria 1864 - 1886, * 25. 8. 1845 Nymphenburg, † 13. 6. 1886 in Lake Starnberg.
An eternal mystery

Even before he died, the king had already become something of a legend. "I want to remain an eternal mystery to myself and others", Ludwig once told his governess, and it is this mysterious element that still fascinates people today. The poet Paul Verlaine called Ludwig II the "only true king of this century". The shy dreamer, who had none of the typical characteristics of a popular king, lives on, still idolized, as "the Kini".
His palaces, which were barred to strangers, have been visited by over 50 million people since his death. They are records in stone of the ideal fantasy world which the king built as a refuge from reality. His historic, poetic and ideal interpretation of his role as king was finally his downfall. It is possible that he preferred to die rather than return to reality.
Prince Ludwig

The prince was born on the name day of the canonized Louis IX, King of France and founder of the House of Bourbon. His grandfather and godfather Ludwig I of Bavaria, had Louis XVI of France as his godfather. This relationship with the House of Bourbon had an important influence on the way the prince saw himself throughout his life.
Ludwig and his brother Otto were strictly brought up with an emphasis on duty. Their parents Maximilian II of Bavaria and Marie of Prussia kept themselves at a distance.
"Ludwig enjoyed dressing up ... took pleasure in play acting, loved pictures and the like... and liked ... making presents of his property, money and other possessions", said his mother.
This was not to change. His vivid imagination, his tendency to isolate himself, and his pronounced sense of sovereignty were also already evident when Ludwig was a child.

In 1864 Ludwig II acceded to the throne at the age of 18 without any experience of life or politics, but adored by women. Looking back in 1873, he described it thus:
"I became king much too early. I had not learned enough. I had made such a good beginning ... with the learning of state laws. Suddenly I was snatched away from my books and set on the throne. Well, I am still trying to learn..."
In 1866 Ludwig II suffered the biggest defeat of his life: in1866, the expanding state of Prussia conquered Austria and Bavaria in the "German War". From then on, Bavaria's foreign policy was dictated by Prussia and the king was only a "vassal" of his Prussian uncle.
Ludwig II was possessed by the idea of a holy kingdom by the Grace of God. In reality he was a constitutional monarch, a head of state with rights and duties and little freedom of action. For this reason he built a fantasy world around him in which – far removed from reality – he could feel he was a real king. From 1875 on he lived at night and slept during the day.
Idealized designs by scene painters for a "New Hohenschwangau Castle" high above the tranquil Hohenschwangau of Ludwig II's father, a "Byzantine Palace" and a copy of Versailles were already in existence by 1868. From the beginning, Ludwig's fantasy world embraced several different epochs. The "New Castle" (subsequently Neuschwanstein), was based on Christian kingship in the Middle Ages, and the new Versailles, built from 1878 on the Herreninsel, recalls the baroque absolutism of the Bourbon King of France. Linderhof in the Graswangtal, built from 1869, imitates a variety of styles, with the help of the latest technology.
The "ideal monarchical poetic solitude" which the king chose for himself was not in the long run compatible with his duties as a head of state. The new settings he was constantly devising for himself were equally beyond the private means of a king. Ludwig failed through his desire to anchor his illusions and dreams in reality.

From 1885 on foreign banks threatened to seize his property. The king's refusal to react rationally led the government to declare him insane and depose him in 1886 – a procedure not provided for in the Bavarian constitution. Ludwig II was interned in Berg Palace. The next day he died in mysterious circumstances in Lake Starnberg, together with the psychiatrist who had certified him as insane.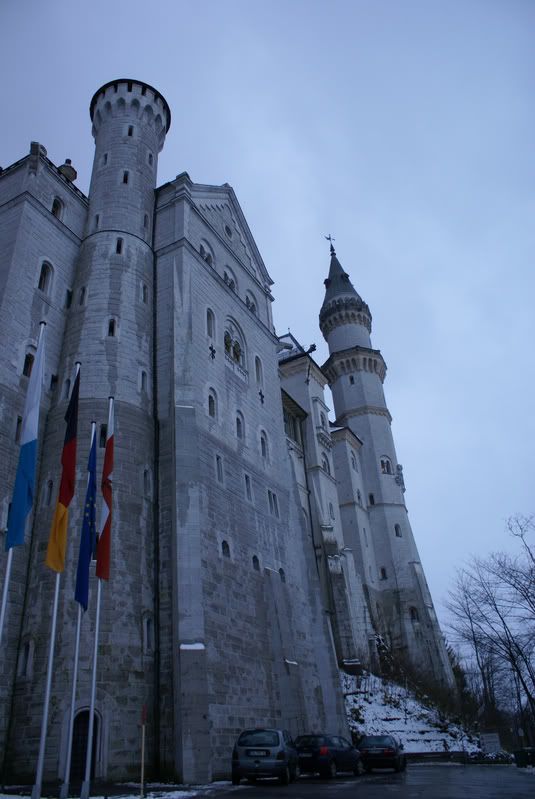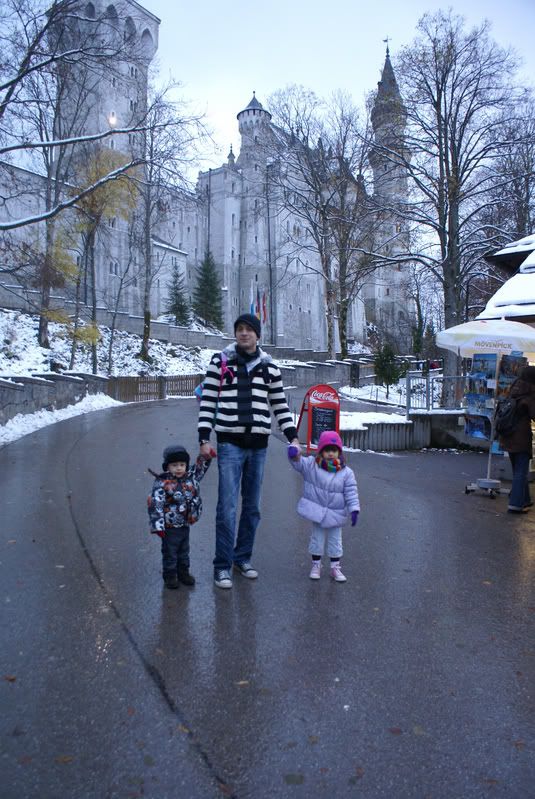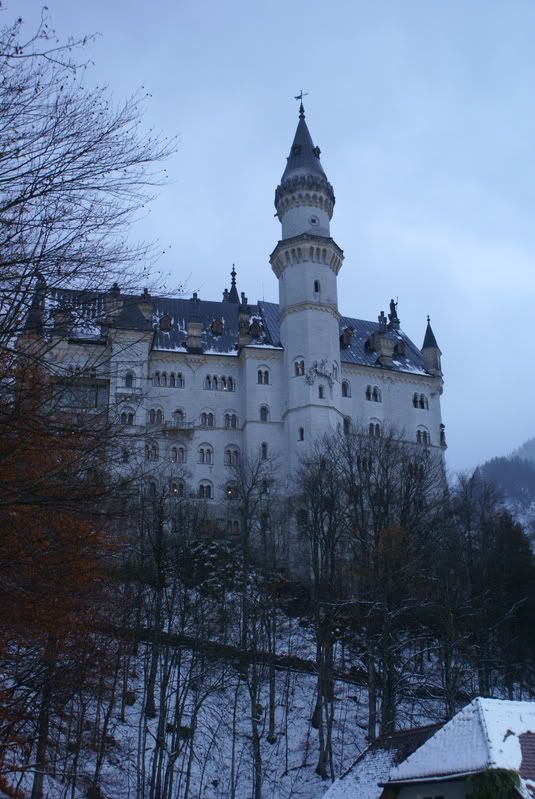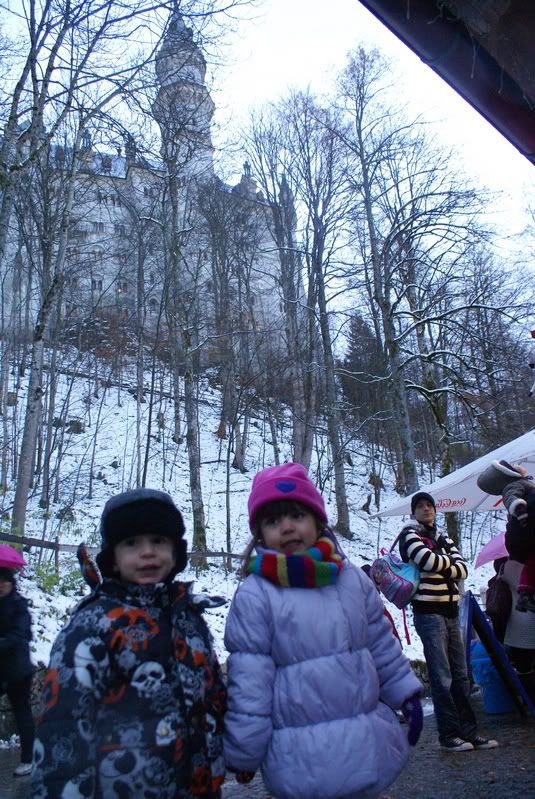 After the tour, I snuck away from our group so I could snap the next two photos. I realy need to get a wide angle zoom for my camera.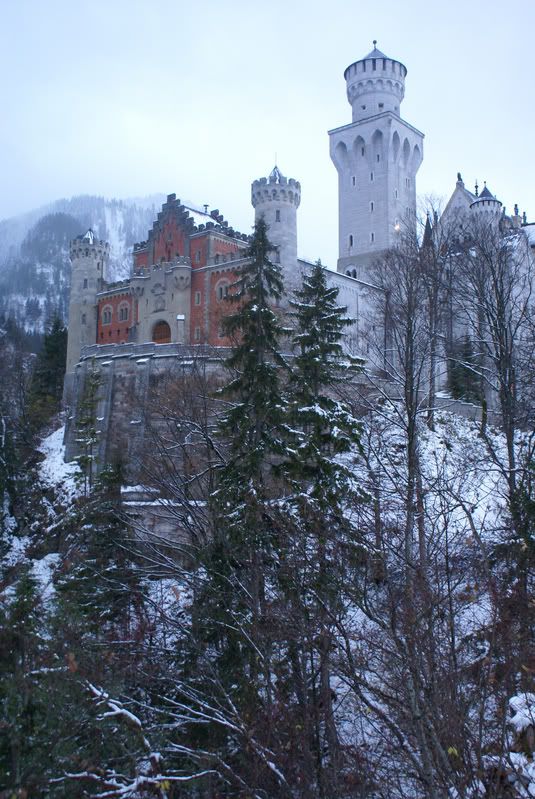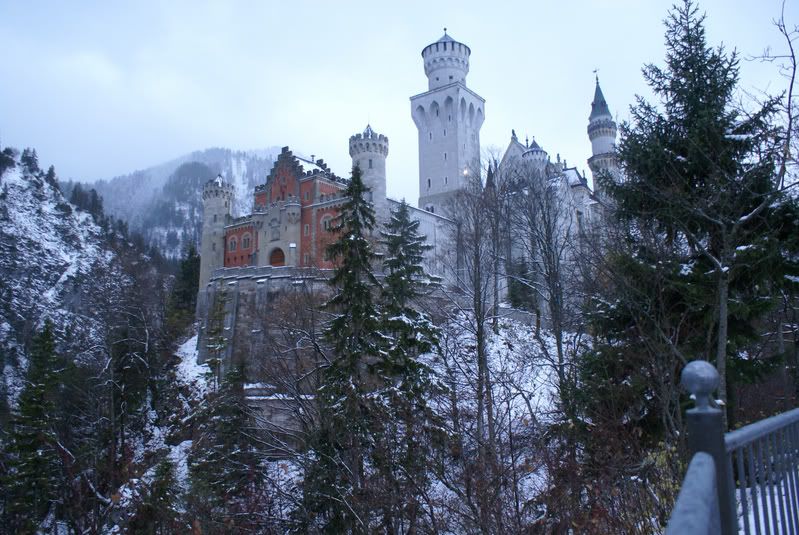 Man oh man. When we got to the halfway mark on the hill, there was a little cafe. Outside there was a girl selling these little balls. Think funnel bread as a ball. They were hot and fresh, and the prefect pick me up to a long day.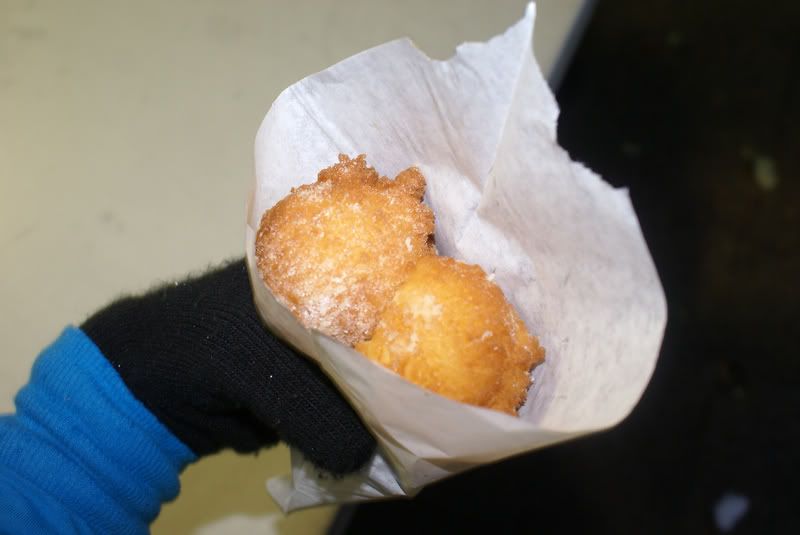 We left the following morning. Our visit was short, but enjoyable. I wish we had more of an opportunity to see the village we were in, but with the short days, it has hard. We're definately going back in the near future.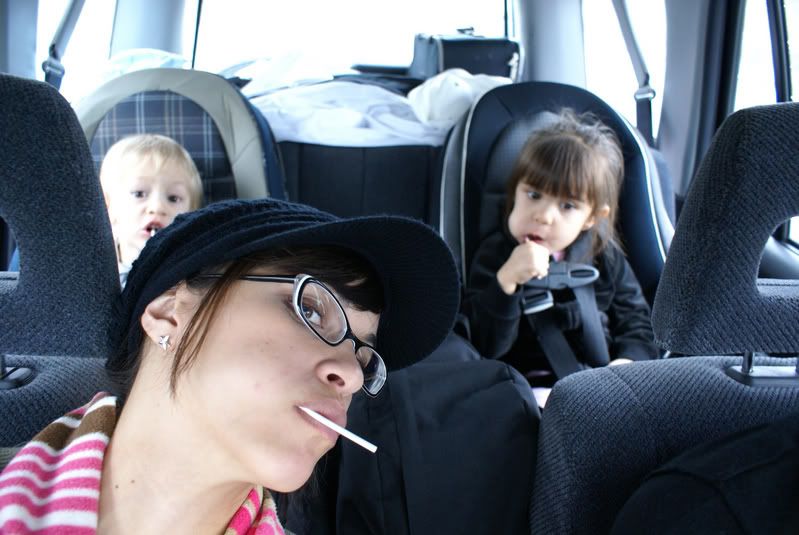 Last photo: lolipops to keep the Summers family sane on a long drive.
xoxo
another post is coming up soon. I have to recover from this long one first. lol.