I really have a ton of other things to do, but typical Jessica...puts it off to work on crafts. LOL. I made these ADORABLE placecards and napkin rings for tomorrow and I thought I'd share them with ya'll before I start preparing things for Turkey Day.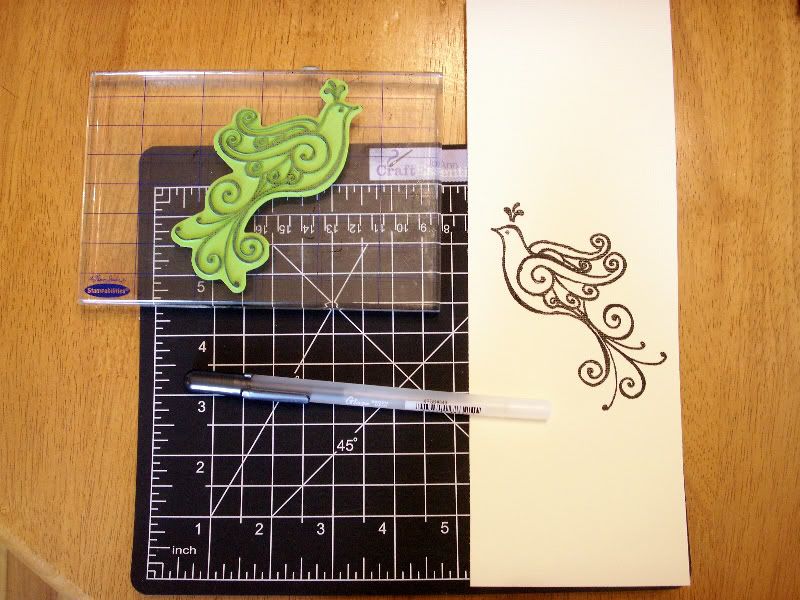 Step 1: Cut strips of cardstock. My dimensions are 3.5"x10". This is going to depend on the size of your stamp of course.
Step 2: Stamp your image near the middle of your paper. I am using the limited edition stamp that I won from Inque Boutique. It's called "Chanteuse." It's not for sale, but they do have the mirror image set, "Nightingale." Anyways, I then reoutlined the stamp using a Gelly Roll Glaze pen to give it that embossed look.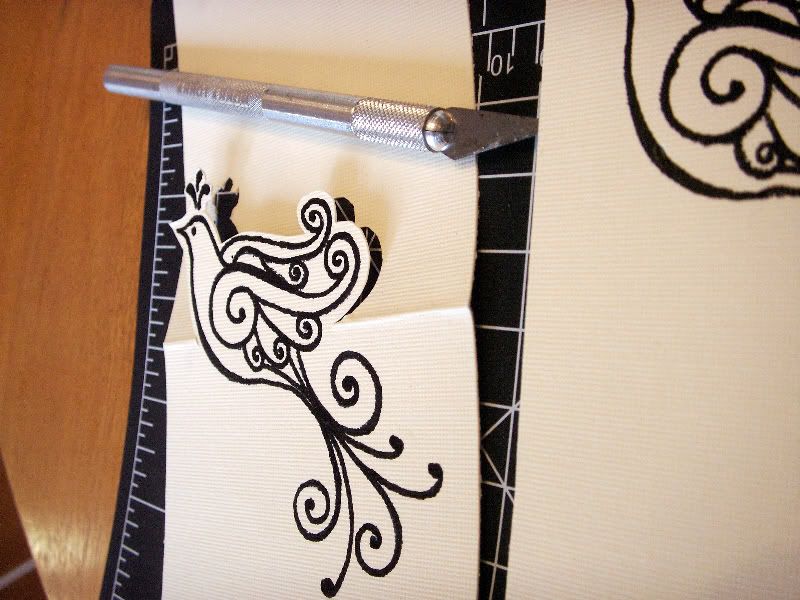 Step 3: Using a craft knife, carefully cut around the top half of your image.
Step 4: Fold your card in half.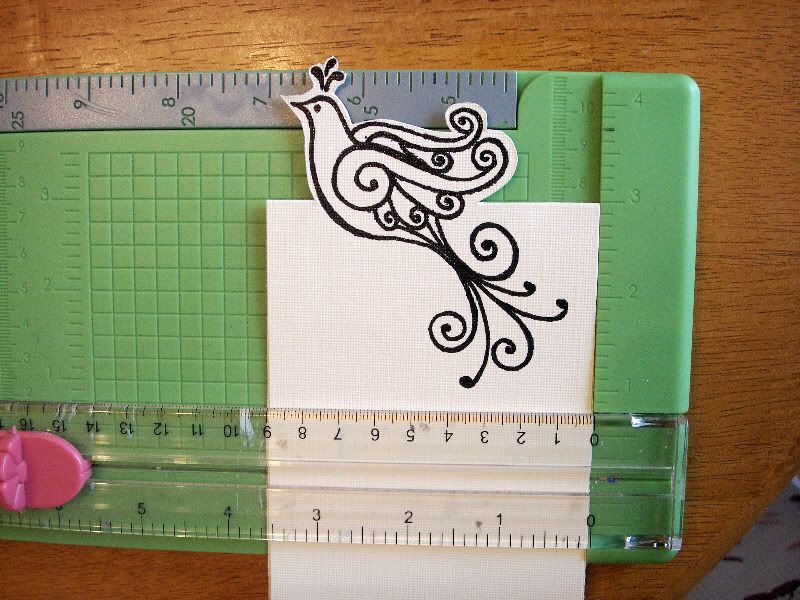 Step 5: I trimmed my card once it was folded in half to measure 3 inches from the top fold to the bottom of the card (6 inches once opened).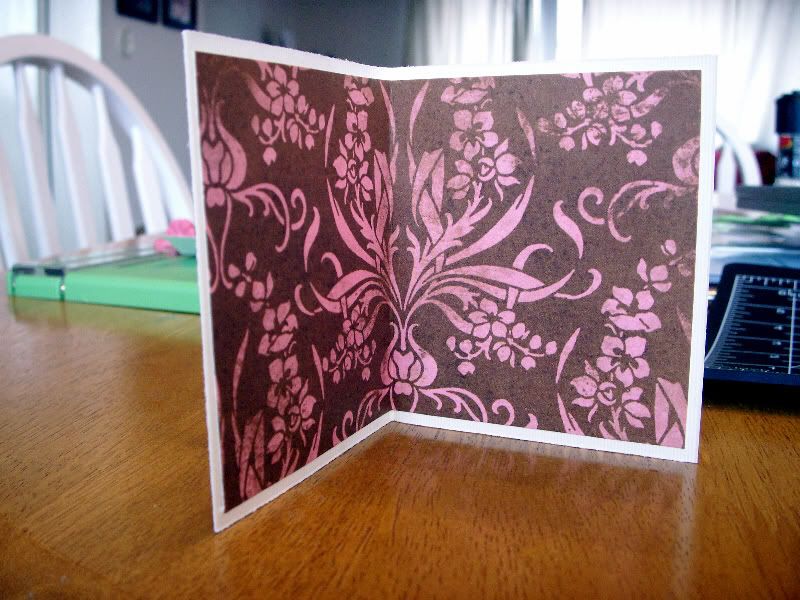 Step 6: Cut and adhere a patterend piece of paper to the inside of your card. I made sure mine was 1/4" smaller than the card so there would be a nice 1/8" border. Don't glue it to your cut out image though!!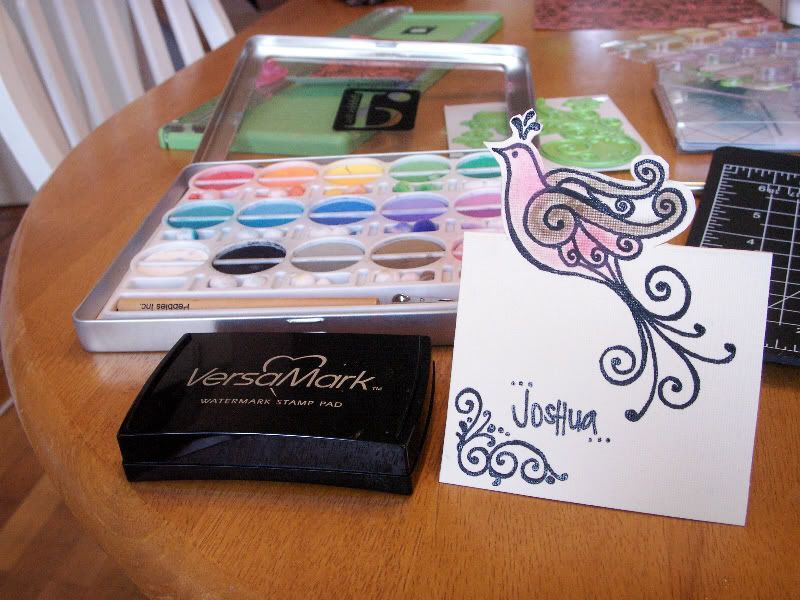 Step 7: Color in your image. I used Pebbles Inc. chalk and a watermark ink pad to make the chalk stick a bit better.
Step 8: You can see I stamped an additional image in the corner and went over that as well with my Glaze pen. Add your guests name to the placecard. I also inked the edges with Tim Holtz Ranger Inks and used more pink chalk. *Voila!*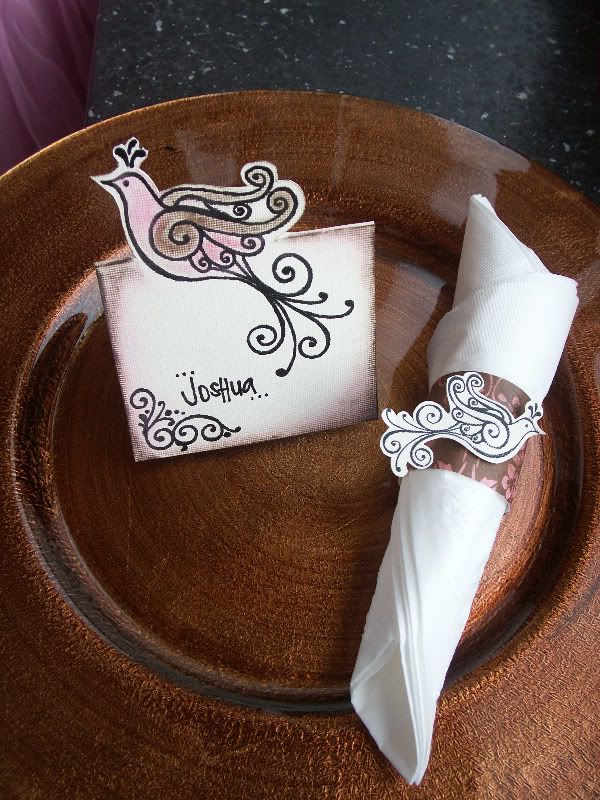 Note: If your card won't stand in place (i.e. it keeps falling flat) take a strip of cardstock, about 1/2" wide, fold each end in, and glue it to the inside of the card to keep it standing properly.
To make the napkin ring:
Step 1: Cut a strip of PP. I believe mine is an inch or so.
Step 2: Form into a circle. Glue. I was in a hurry, so I stapled mine. :)
Step 3: Stamp your image on a seperate piece of cardstock.
Step 4: Cut out and adhere to your ring using a foam dot or something similar to help it stand out a bit.
That's it! If you make something similar, link it up in my comments! :D
Happy Thanksgiving everyone!
-xoxo-